D-backs' offense awakens against Reds' ace
D-backs' offense awakens against Reds' ace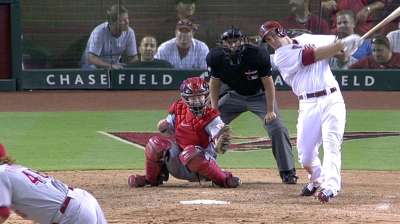 PHOENIX -- Another day, another memorable Paul Goldschmidt performance.
In what has quickly become commonplace for the D-backs in 2013, Goldschmidt launched another go-ahead blast as part of a two-home run, three-RBI night as the Arizona lineup tallied 15 hits and roughed up Reds ace Johnny Cueto en route to an 11-5 victory Friday night at Chase Field.
"We need to keep him healthy, don't we?" D-backs manager Kirk Gibson said. "He's huge for our team. He's our nucleus."
The win was the third in a row for the D-backs, who had lost their previous four, and thanks to a Marlins victory over the Giants, the club extended its lead in the National League West to 2 1/2 games.
Although the final score showed a blowout, the game was tied in the bottom of the fifth until Goldschmidt deposited a Cueto slider into the right-field bleachers to give the D-backs the lead. Remarkably, the homer marked the first baseman's MLB-leading 12th go-ahead long ball this season.
"Every guy wants to be in those spots," Goldschmidt said. "You just have to go up there every time and have a good at-bat. But you're going to fail sometimes; that's just how the game is."
Goldschmidt certainly has not been doing much failing this year. His 19 home runs are tied for second in the NL, while his 65 RBIs lead the league.
"Seems like we talk about him every night," joked Jason Kubel, who tied a career high with four hits. "He's doing a great job. It's really fun to watch."
Counting Goldschmidt, Friday's offensive breakout was a much-needed shot in the arm for the D-backs' lineup. Arizona had scored just 14 runs combined in its last six games but went off against one of the NL's best pitchers in Cueto. Each D-backs starter collected at least one hit except for Cody Ross, who still chipped in by drawing a walk and later scoring a run.
"That was a great job tonight up and down the lineup," Goldschmidt said. "We're going to struggle sometimes, but we play hard every night and give ourselves a chance to win. It was nice to get out and score some runs, then tack on more to put the game out of reach."
Cueto, who entered the game a career 5-0 with a 1.66 ERA in six starts vs. Arizona, ended up allowing seven runs on 11 hits in just 4 1/3 innings. The 11 hits matched his career high, and the seven runs matched his career total against the D-backs.
"He was getting balls over the heart of the plate," Reds manager Dusty Baker said. "His slider wasn't as sharp, like the one he threw to Goldschmidt. It just sort spun right there, like a cement-mixer. It wasn't really breaking. He was almost Johnny tonight. He just wasn't sharp."
D-backs starter Wade Miley was not much better than Cueto, as he was removed with two outs in the fifth when the game was tied at 3. The southpaw lacked command Friday, walking four batters and running his pitch count up to 104 before being taken out.
"He's not locating the ball well," Gibson said. "The good Wade Miley throws aggressively; he just couldn't get anything over tonight."
Combined with his previous three June starts, Miley allowed 15 runs (10 earned) in 23 1/3 innings this month.
"I never really got on a roll," Miley said. "I'm still going right at guys, just not executing pitches. That's what it boils down to. Sometimes I try too hard to get back into a rhythm, and I overthink things. I just have to focus on the positives and move on."
The D-backs jumped on Cueto early, when Gerardo Parra led off the first inning with a home run, his fifth leadoff homer this year. Arizona added two runs in the second on Willie Bloomquist's single to right-center before the Reds tied the game with a run in the fourth and two in the fifth.
Goldschmidt answered right back, though, giving the D-backs a lead they would not surrender with his first home run of the game. An inning later, the first baseman blasted his second one, a no-doubter off Curtis Partch that hit the center-field wall. Between the fifth and sixth innings, Arizona put up eight runs on eight hits.
"It was a fun game against a really good team," Kubel said. "As long as we win, it doesn't matter how it happens, but tonight felt good."
Tyler Emerick is an associate reporter for MLB.com. This story was not subject to the approval of Major League Baseball or its clubs.