Colon wins seventh straight with help from Cespedes
Colon wins seventh straight with help from Cespedes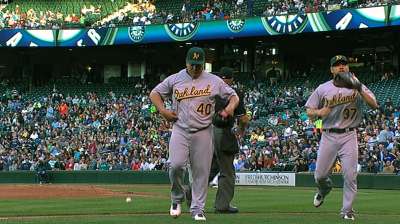 SEATTLE -- It was a nice little recipe these A's churned out for a 6-3 series-opening victory in Seattle on Friday night.
One standard Bartolo Colon performance, sandwiched by a pair of two-run homers off the bat of Yoenis Cespedes in the first and ninth, sprinkled with solo shots from Jed Lowrie and Coco Crisp along the way -- well, that's how it was done.
"Cespedes kind of bookends us, one in the first and one in the ninth, and both were huge," manager Bob Melvin said. "One gave us a lead and the other extended the lead, made it a little easier on us in the end."
The A's finished it off with a common winning ingredient: Grant Balfour, who picked up his 18th save of the season with a scoreless ninth and 36th consecutive dating back to last April.
His outing followed yet another impressive one from Colon, who didn't let a long ball put an end to his win streak, which now stands at seven games with a 1.41 ERA in that stretch. He has 10 on the season, the most by an A's pitcher before the end of June since 2002, when Mark Mulder tallied as many.
Colon had not given up a home run since his last loss, which came more than a month ago on May 14 against Texas, before Seattle's Nick Franklin took him deep to right field for a three-run shot in the third inning.
But he didn't allow another run in eight innings of work, and Franklin's homer was largely outdone by Oakland's four. Mariners righty Hisashi Iwakuma, he of a 2.26 ERA, was responsible for three of them, after having not allowed more than one in his previous 24 career outings at Safeco Field.
Iwakuma has just three losses on the season. Oakland gave him two of them.
"Our game plan's been pretty good, and we've gotten some decent swings off him," Melvin said. "We've also had pitchers on the mound, particularly Bartolo, who have really kept us in the game.
"The confidence we have when he takes the ball increases every time. We felt good about today, and Iwakuma is one of the better pitchers in baseball, which says a lot."
Colon was his usual self, never mind the long ball. The A's All-Star candidate allowed just seven hits with four strikeouts and two walks in eight innings of work, needing only 97 pitches in his seventh straight victory -- marking the longest streak of his career since he won eight in a row during his 2005 American League Cy Young Award-winning campaign.
Colon, carrying a 2.93 ERA, has already said this season that he hasn't felt as good as he does now since that year, and he reiterated that very sentiment again Friday night.
"I'm mixing up my pitches better than before," Colon said through his translator, A's coach Ariel Prieto. "I've always been a fastball guy, but mixing it up like I have, that's a reason."
For Cespedes, it marked the third two-homer game of his career. All have come this month.
The Cuban slugger was back in left field for the first time in over a week, after a sore hamstring limited him to designated hitting duties, and he celebrated his return to the field by notching a two-run homer off Iwakuma in the first inning. He later added another two-run homer in the ninth against righty Tom Wilhelmsen.
"I feel so happy," Cespedes said through Prieto. "I can say that I'm not 100 percent yet, but it feels great to play in the outfield.
"When I'm in the outfield ... my body's on fire. The difference is, when I'm a DH, I sit down in the dugout and I'm doing nothing and I feel like I'm going down a little bit emotionally."
"Evidently he likes to play the outfield," Melvin said, smiling. "You could tell by his whole demeanor today, he was just in a better mood."
So were the A's, who were coming off a 1-3 stay in Texas.
Jane Lee is a reporter for MLB.com. Read her blog, Major Lee-ague, and follow her on Twitter @JaneMLB. This story was not subject to the approval of Major League Baseball or its clubs.