Homers hurt Iwakuma in first loss at Safeco Field
Homers hurt Iwakuma in first loss at Safeco Field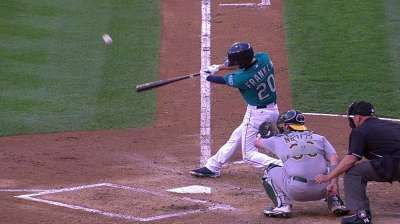 SEATTLE -- Hisashi Iwakuma is as frugal with runs as any pitcher in baseball, but when he gives one up, it usually goes deep. That surprising penchant for allowing home runs cost Iwakuma on Friday night, when he surrendered three in Seattle's 6-3 loss to Oakland.
The right-handed Japanese import has allowed 17 of his 30 earned runs this season via the long ball. Entering the game with a 0.92 ERA at home, Iwakuma suffered through his first multi-home-run game at Safeco Field.
"Overall, I thought I felt pretty good on the mound," Iwakuma said. "All my pitches were there, it's just those home runs that they gave up were not where I wanted them location-wise and they cost me."
Seattle (32-42) managed a home run of their own off Oakland starter Bartolo Colon, who extended his winning streak to seven games. The A's pitcher kept Seattle batters guessing all night to earn his 10th win of the season.
"He does locate and I think that's a big part of his game," Mariners second baseman Nick Franklin said. "He likes to use his two-seam [fastball] a lot and a lot of fastballs, and he just locates down in the zone. Sometimes he gets you to chase just because of that two-seam, it's got a lot of movement."
Franklin was able to end one of Colon's streaks, however, hitting the first homer off the pitcher in 46 1/3 innings with a three-run shot in the third.
But Yoenis Cespedes had already hit a two-run home run, giving the A's an early lead with his first-inning shot. Jed Lowrie and Coco Crisp added solo home runs of their own in the fourth and sixth innings, respectively, before Cespedes went deep again in the ninth.
"Our game plan has been pretty good, and we've gotten some decent swings off him," A's manager Bob Melvin said. "We've also had some pitchers on the mound, particularly Bartolo, who have really kept us in the game."
It was the third straight loss for the Mariners, and the second straight night in which one of their aces had an uncharacteristically bad performance. Just one night earlier, Seattle lost, 10-9, to the Angels, after Felix Hernandez blew a 7-0 lead.
The Mariners took the lead in the third inning of this one. Shortstop Brendan Ryan got aboard on a single and promptly stole second. He then advanced to third on Endy Chavez's single. Then Franklin crushed the second pitch he saw, putting Seattle up, 3-2.
"He's been doing great," Mariners manager Eric Wedge said of the rookie Franklin. "Up there ready to hunt the baseball, but takes the walks when they don't come to him, playing aggressively at second base. He's playing with no fear. I love that."
Seattle threatened in the sixth, but hit a roadblock when Kyle Seager tried to advance to third from first on a passed ball. The throw easily beat Seager, and he was tagged out at third.
"Once he slowed down and kind of stuttered around second, you've got to shut 'er down," Wedge said. "If he just keeps going, maybe its' a different story, but that can't happen.
The play likely saved Oakland a run. Kendrys Morales followed with a single, and then Raul Ibanez got on base with a walk. A pair of fly outs by Justin Smoak and Mike Zunino ended the inning.
Charlie Furbush pitched well in relief of Iwakuma, striking out the side in the eighth. But former closer Tom Wilhelmsen continued to struggle, allowing Lowrie to get on base with a single before Cespedes smashed his second home run of the day to left field in the ninth.
"Evidently he likes to play the outfield," Melvin said of Cespedes, who made his first start in left field since June 11. "You could see his whole demeanor today, he was just in a better mood."
After allowing seven hits in eight innings, Colon handed the ball off to closer Grant Balfour, who got through the ninth with two strikeouts, allowing only a single to Smoak.
Jacob Thorpe is an associate reporter for MLB.com. This story was not subject to the approval of Major League Baseball or its clubs.