Zim's glovework aids Strasburg's victory
Zim's glovework aids Strasburg's victory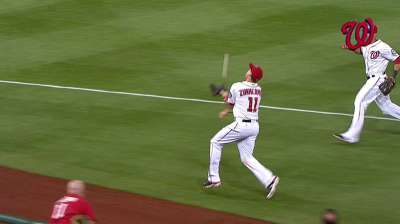 WASHINGTON -- Ryan Zimmerman's defense has faltered at some inopportune moments this season, but the Nationals' third baseman helped preserve Friday's 2-1 win over the Rockies with some fancy glovework.
Zimmerman's sparkling defensive play in the seventh inning came at a critical juncture in the game. Zimmerman's RBI double tied the game, 1-1, in the previous frame and the Rockies' Josh Rutledge stood at second with two outs, representing the go-ahead run.
Pinch-hitter Tyler Colvin lofted a 2-0 pitch from Stephen Strasburg down the left-field line, and Zimmerman -- shaded toward second base against a left-handed hitter -- turned and gave chase as the ball twisted into foul territory. Zimmerman looked over his left shoulder to spot the ball, then followed its path until he was looking straight backward as he ran.
"I saw it," he said. "I was running, and then at the end you just kind of turn and you wait until the last second, because obviously you just kind of put your glove where you hope it's going to be."
Zimmerman stuck his mitt straight out in front of him and snagged the pop fly to end the inning.
Asked how often he works on that sort of play, Zimmerman first joked, "Every day," before revealing the truth.
"No, you just kind of go after it and run where you think it's going to be, and hopefully it falls into your glove," he said. "You've got to be lucky sometimes.
"It's a fun catch to try and make. If you don't make it, it doesn't matter. If you make it, it's great. It does matter, but nobody expects you to make it."
Zimmerman's defense, particularly his throwing, has been a hot topic at times this season. The 2009 National League Gold Glove Award winner has made 11 errors in 57 games, and twice this season unearned runs from those miscues have factored into losses for Strasburg.
This time, his play saved Strasburg from having to make any more pitches with a runner in scoring position. The right-hander, who picked up his fourth victory, gave an emphatic fist pump and shouted as he watched the grab.
"That was awesome," Strasburg said. "Just watching the ball kind of hang up in the air, and he had to run a long ways and kind of snare it at the last second. So, that was huge."
Zimmerman also made a nice play in the fourth inning. With two outs and nobody on base, Todd Helton slapped a hard grounder down the third-base line. Zimmerman went to his right, smoothly vacuumed up the ball as he slid on one leg, then got up and slung a throw across the diamond. First baseman Adam LaRoche helped him out with a nice scoop to easily beat Helton.
Tom Schad is an associate reporter for MLB.com Follow him on Twitter @Tom_Schad. Andrew Simon is a reporter for MLB.com. Follow him on Twitter @HitTheCutoff. This story was not subject to the approval of Major League Baseball or its clubs.