Hernandez, Rays lose game of small ball
Hernandez, Rays lose game of small ball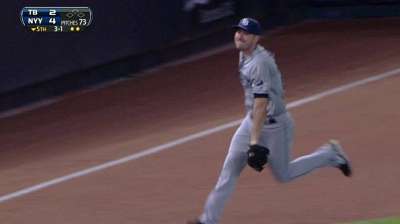 NEW YORK -- Joe Maddon has talked often this season about the swarming nature of his offense. On Friday night, the Rays' offense was anything but, as the manager surmised: "We attempted to swarm and the Raid was out. They just swatted us back and we couldn't get it going."
In the end, the Yankees took advantage in scoring situations, and the Rays did not, leading to a 6-2 loss at Yankee Stadium.
The loss dropped the Rays to 38-36 on the season, 2 1/2 games behind the third-place Yankees in the American League East.
A big mood killer for Tampa Bay came in the fourth. After Luke Scott's RBI single tied the score at 2, the Rays loaded the bases with one out against Yankees starter David Phelps. If the Rays were going to swarm, this appeared to be their moment, with Matt Joyce stepping to the plate and Desmond Jennings on deck.
Unfortunately for the Rays, that opportunity fizzled when Joyce popped out to shallow left -- too shallow for Scott to tag up and score from third. Jennings then flied out to center to end the threat.
"We had good guys coming up right there, and that was really the difference maker in the game," Maddon said.
Joyce expressed disappointment for not getting the job done.
"Honestly, I think for myself, we have to get at least one run right there," Joyce said. "There's really no other way of putting it. It has to be done. They're basically giving you a run, and there's a lot of pressure on them and the pitcher to throw a strike. And as a hitter, you know your job, you have to get the run in. It's a tie ballgame.
"I just didn't get enough of it to left field. It's frustrating. To come out, some nights you feel so good and see the ball so well. Other nights it's a real grind, it's a battle. You're not always going to feel great, but you have to find a way."
Tampa Bay did swarm Thursday night in the series opener when the club scored eight runs on 14 hits, which made the inconsistency of the offense an added source of frustration.
"You're not going to go out and score eight runs every game," Joyce said. "But I think just finding that consistency of putting good at-bats and doing the little things right, like driving that runner in is what makes a good team a good team."
The Yankees gained a positive vibe from what the Rays couldn't do in the fourth.
"I thought the important inning was when he had the bases loaded, one out, and didn't give up any runs after that," Yankees manager Joe Girardi said. "I thought that was a real important inning for [Phelps], and kept the score 2-2. I thought that was the inning for us that changed the game."
The Yankees took advantage of the Rays' failed opportunity when they got busy in the bottom half of the inning, cobbling together three consecutive singles to load the bases.
Jayson Nix grounded into a double play that scored Travis Hafner for a 3-2 lead. David Adams then hit a slow roller that Evan Longoria had to field with his bare hand. Normally the Rays third baseman makes the play, but he threw the ball up the line where James Loney could not field the ball at first. That allowed Lyle Overbay to score the Yankees' fourth run.
Zoilo Almonte homered on an 0-1 pitch from Roberto Hernandez with two outs in the sixth to give the Yankees a 5-2 lead while giving Almonte his first Major League home run. Accordingly, the Yankee Stadium crowd of 41,123 rewarded him with a curtain call.
Hernandez allowed five runs on nine hits in seven innings to take his eighth loss of the season while moving to 1-7 with a 7.36 ERA in his career against the Yankees. Nevertheless, Maddon maintained the pitcher did everything right Friday night.
"He was good," Maddon said. "He was all ground balls. The damage was done on ground balls and there wasn't a whole lot he could do about that. ... Many were not hit that hard. I thought he pitched really, really well actually."
Tampa Bay had its two-game winning streak snapped and is now 2-3 on its seven-game road trip and 4-9 in its last 13 games.
"We weren't awful tonight," Maddon said. "Phelps pitched out of some tough spots, he's good. On the other side of things, we just had some bad baseball luck on our side. Anytime Roberto puts the ball on the ground, it's a good thing. It just didn't work out."
Bill Chastain is a reporter for MLB.com. This story was not subject to the approval of Major League Baseball or its clubs.