Mariners Draft picks take BP at Safeco Field
Mariners Draft picks take BP at Safeco Field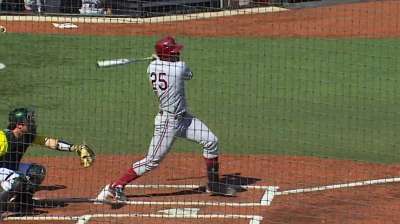 SEATTLE -- A couple of new Mariners signees were on hand at Safeco Field to take batting practice before Tuesday night's game against Oakland. Second-round pick Austin Wilson and 13th-rounder Lachlan Fontaine each hit a few pitches into the stands while wearing personalized Mariners jerseys in front of family, friends and reporters.
"It's awesome, to get on a big league field," Wilson said. "You watch guys play on TV here, the opportunity to play out here and hit. It gives you motivation and incentive to go out in the minors and work hard, and hopefully some day I can work out here and play here."
Wilson, an outfielder out of Stanford, impressed onlookers with his power, hitting a number of balls deep over the left-field fence. The 21-year-old Wilson led Stanford with a .288 batting average, along with five home runs. Fontaine is a third baseman from Canada, who was named the No.1 Top Prospect at the prestigious Perfect Game camp in Arizona.
Wilson said he was very excited to be drafted by the Mariners and that he was already familiar with the organization.
"A lot of the young prospects that I follow, I mean, I've seen [pitching prospect] Taijuan Walker play in high school, I watched [Mariners catcher Mike] Zunino play, I got to play against him in Cape Cod," Wilson said. "It's an honor to play out here, and I watched [Mariners All-Star Ken] Griffey growing up, so it's almost surreal to be out here and I was very excited the Mariners picked me up."
Jacob Thorpe is an associate reporter for MLB.com. This story was not subject to the approval of Major League Baseball or its clubs.