Pagan could need surgery for ailing hamstring
Pagan could need surgery for ailing hamstring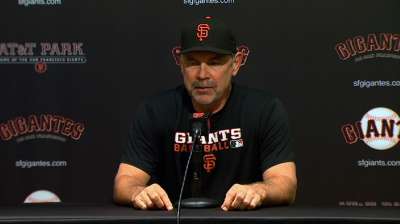 SAN FRANCISCO -- Surgery again looms as a possibility for Angel Pagan, the Giants center fielder and leadoff hitter who aggravated his strained left hamstring in a Minor League injury rehabilitation appearance Thursday night.
Giants manager Bruce Bochy said after Friday's 6-3 loss to Miami that the organization's braintrust will thoroughly examine every option regarding Pagan, who signed a four-year, $40 million contract in the offseason.
"Sure, we'll get it checked out again, but in the next day or two, we're going to have to decide which way we're going to go with him as far as treatment," Bochy said.
Asked if surgery was being considered, Bochy responded without hesitation.
"Sure," he said. "No question it's an option. That's what we'll talk about the next day or so and figure out what is the best option."
Pagan, who has been sidelined since May 25, said last week in Atlanta that surgery had been discussed for his injury, which he said hurt most where the hamstring meets the bone at the side of the knee. But he and the club opted for intensive treatment and rehab.
Bochy thus refused to second-guess sending Pagan, who was appearing in his first rehab game, on his assignment with Class A San Jose. Bochy pointed out that Pagan, who turns 32 on July 2, passed all the preliminary physical tests that are required before a player can begin a rehab stint.
"He said he felt great," Bochy said.
Before Friday's game, Bochy spoke briefly to Pagan, who was carted off the field after pulling up when he tried to sprint to first base in San Jose's game at Stockton.
"He seemed all right. A little down," Bochy related. "I think he's hoping, like the rest of us are, for good news."
Chris Haft is a reporter for MLB.com. Andrew Owens is an associate reporter for MLB.com. Follow him on Twitter @OwensAndrew. This story was not subject to the approval of Major League Baseball or its clubs.