Gaudin sore but optimistic about next start
Gaudin sore but optimistic about next start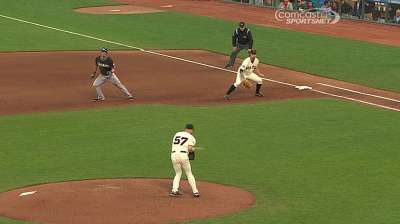 SAN FRANCISCO -- Chad Gaudin woke up with a lot of soreness Friday, but it wasn't just the bruised right upper forearm that forced him to leave Thursday's start that ailed the right-hander.
In addition to the forearm, for which Gaudin sported a lymphatic sleeve to help with the swelling and bruising, his lower back ached from taking a different line drive there in the first inning Thursday. While the back is not jeopardizing Gaudin's next start, the forearm is another matter.
"I'll be honest. It's probably a little too soon to say he's a definite [to make his next scheduled start Tuesday]," manager Bruce Bochy said.
Gaudin did not throw at all Friday and let the arm rest, but expects to throw Saturday and complete his bullpen session Sunday.
"I'm pretty optimistic about it," said Gaudin, who added that he's fortunate he did not break any bones.
Chris Haft is a reporter for MLB.com. Andrew Owens is an associate reporter for MLB.com. Follow him on Twitter @OwensAndrew. This story was not subject to the approval of Major League Baseball or its clubs.