Surkamp doing well in rehab from Tommy John surgery
Surkamp doing well in rehab from Tommy John surgery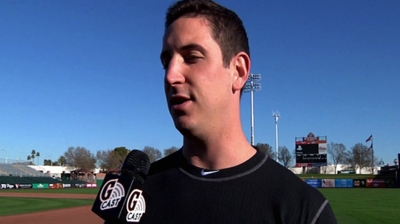 SAN FRANCISCO -- Giants left-hander Eric Surkamp estimated Friday that he'll need five more outings before he can throw 100 pitches, an average starter's workload.
Surkamp continued to demonstrate his steadily increasing arm strength Thursday night in Class A San Jose's game at Stockton, allowing two hits in four innings while walking none and striking out three.
Surkamp, who underwent Tommy John elbow surgery last July, said that he has regained the fastball velocity -- 87 to 89 miles per hour -- which he possessed before his operation.
"I still feel like my mechanics are a little bit out of whack," Surkamp said in a visit to the Giants clubhouse. Noting that he's still trying to sharpen his curveball, he said, "I'm spinning it good, but location-wise, I'm not there yet."
Surkamp's statistics indicate that he's not struggling at all. In four appearances with San Jose, he has recorded a 3.18 ERA while walking two and striking out 11 in 11 1/3 innings. His WHIP (walks and hits per inning pitched) is an impressive 0.79.
Surkamp is a key figure in the Giants' plans, given the state of their starting rotation. Three of its members aren't guaranteed to return in 2014: Tim Lincecum, who'll be eligible for free agency at the end of the season, and Barry Zito and Ryan Vogelsong, whose contract options are controlled by the club. Surkamp, 25, showed flashes of potential at the end of the 2011 season, when he went 2-2 with a 5.74 ERA in six starts for San Francisco. Should he avoid physical setbacks, he could emerge as a contender for a spot in the rotation next spring.
Chris Haft is a reporter for MLB.com. Andrew Owens is an associate reporter for MLB.com. Follow him on Twitter @OwensAndrew. This story was not subject to the approval of Major League Baseball or its clubs.