Crawford improves, but sits out another game
Crawford improves, but sits out another game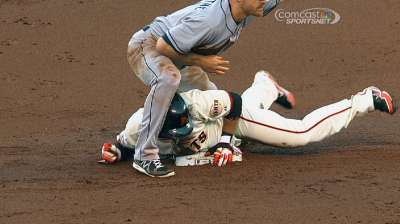 SAN FRANCISCO -- Brandon Crawford was a scratch from Giants manager Bruce Bochy's lineup for the third consecutive day Friday with a sprained index and middle finger he injured Tuesday.
Crawford said he was available to pinch-hit, and Bochy added that he thinks the shortstop, who would only field in an emergency Friday, should be "playable" Saturday.
"It feels a little better, but not quite where I want it to be," Crawford said.
He played catch with head athletic trainer Dave Groeschner and threw as far as 120 feet, but "it still didn't feel good. I felt like there's not as much behind [the throws] as I'd like," Crawford said.
Crawford added that if he improves as much from Friday to Saturday as he did from Thursday to Friday, he should be able to start in Saturday's day game.
Chris Haft is a reporter for MLB.com. Andrew Owens is an associate reporter for MLB.com. Follow him on Twitter @OwensAndrew. This story was not subject to the approval of Major League Baseball or its clubs.