Hamels unable to hold early lead vs. Mets
Hamels unable to hold early lead vs. Mets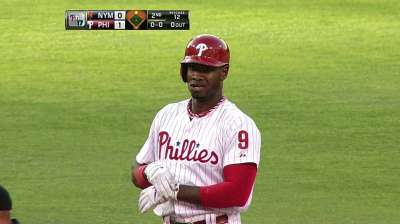 PHILADELPHIA -- The head-scratching, quirky, defeat-filled journey that has been Cole Hamels' 2013 season took another turn Friday night.
Despite a three-run cushion to work with, Hamels surrendered four runs on seven hits in six innings and ended up with his Major League-worst 11th loss as the Phillies fell to the Mets, 4-3, at Citizens Bank Park. Chase Utley returned from a strained oblique, but the Phillies missed out on many chances and are now 2-14 in starts by the lefty.
Hamels -- who has pitched better than his 2-11 record indicates and has a 4.50 ERA -- has made 16 starts this season. In half of those games, the Phillies have scored at least three runs, but Hamels has just a 6.36 ERA in those contests. In his other eight starts -- with the Phillies having been limited to two runs or fewer in each -- his ERA is 2.87.
Run support -- or lack thereof -- has been a storyline for Hamels all season, and he said he has had a "bad case of not being able to keep the team in the game."
"It does get frustrating at times," said Hamels, whose 11 losses in 16 outings this season match a career high. "I do go out there and prepare to win, I'm striving to win out there every pitch. Ultimately, when I make the wrong pitch or a non well-executed pitch, it seems to kind of break open the game for them."
Hamels was not the only one who was searching for answers after the loss.
The Phillies managed 10 hits in the first six innings, but other than a three-run second inning, they had nothing to show for it. Philadelphia left a total of 10 runners on base and did not record a hit against the Mets bullpen in the final three frames.
Utley went 0-for-5 in his first Major League game since May 20, and manager Charlie Manuel said he thought the second baseman played a solid game. Friday marked the 40th time in 74 games that the Phillies scored three runs or fewer in a game, and when Manuel was asked if he thought the rest of the lineup would be fine, he got edgy.
"Is the rest of the lineup going to be fine?" Manuel repeated. "Do I know if the rest of the lineup is going to be fine? If I knew that, don't you think I'd do something about?"
Though he did not fill up the box score, Utley -- who spent Wednesday and Thursday rehabbing in Double-A Reading -- said his side felt good on the field. He added that he thinks he has "overcome" the injury.
"I had some opportunities to drive in some runs, I didn't do that," Utley said. "But overall picture, I feel good, I feel like I can contribute."
Though Utley was not one of them, four of the Phillies' top seven hitters had two-hit performances -- including Ben Revere, who extended his hitting streak to 11 games. But as mentioned, the only runs came in the second inning, when Ryan Howard and Domonic Brown led off the frame with consecutive doubles, and both crossed the plate, while the third run scored when Mets second baseman Daniel Murphy bobbled a Jimmy Rollins grounder.
All 10 Phillies hits came against Mets starter Jeremy Hefner, who struck out six and walked just one batter over six innings.
"That's a good, veteran team that grinds out at-bats," Hefner said. "It's a tough time, especially for me -- a guy who doesn't blow people away. I got to be able to pitch. Fortunately, I did enough to keep us in the game."
Hamels faced the minimum through three innings, but the Mets scored in each of the next three frames to take the lead. Eric Young Jr. had a two-run single to tie the game in the fifth inning, while Juan Lagares gave New York the lead for good with an RBI double in the sixth.
With the defeat, Hamels became the first Phillie to lose 11 games by the end of June since Claude Passeau and Wayne LaMaster both did so in 1937.
While a perplexing 2-11 mark may bother some pitchers, Hamels -- who was the Phillies' Opening Day starter -- said he is trying to ignore the numbers. And Utley said if anyone can work through three bizarre months like this, it's Hamels.
"I don't know if you guys see it, but we see how hard he works," Utley said. "And he's definitely pitched better than his record indicates. Knowing him, it's not going to affect him."
Stephen Pianovich is an associate reporter for MLB.com. This story was not subject to the approval of Major League Baseball or its clubs.