Hefner buckles down as Mets rally to top Phils
Hefner buckles down as Mets rally to top Phils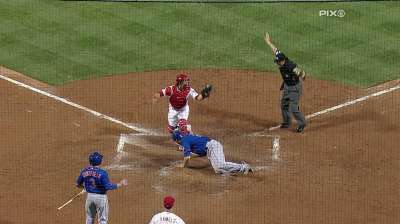 PHILADELPHIA -- Six days ago, the Mets stood accused by manager Terry Collins of surrendering quietly to deficits.
"There's silence in the dugout," Collins said last Saturday after the Mets went down for the 10th time in 12 games. "Silence, like, 'Oh, here we go again.' And you've got to be careful of that. Losing can become as big a habit as winning. That's not how we're going to play here."
Apparently not. After two rallies from 3-0 deficits -- and a third from 3-1 -- in a week, this is a different Mets team. Friday night's 4-3 victory over the Phillies was not nearly as dramatic as Sunday's four-run ninth that beat Chicago, but it was no less resolute.
Juan Lagares' two-out double in the sixth off Phillies starter Cole Hamels chased home Lucas Duda for a go-ahead run that relievers Scott Rice, Carlos Torres and Bobby Parnell made stand up for Jeremy Hefner's second victory of the season. The Mets, who rallied from two runs down to win a five-game series in Atlanta on Thursday night, won for the fifth time in seven games.
"I didn't make a big stink," said Collins. "I think David [Wright] went around before the [Sunday] game and said, 'Let's just play nine innings, leave it on the field.'
"I think they have responded to that."
Whoever lit the fire, player or manager, the Mets suddenly are hot to do whatever it takes, whenever it is needed. Hefner, helped by a fine running catch by Lagares on Carlos Ruiz's two-out drive with the bases loaded and the game tied at 3-3 in the fifth, gave up 10 hits but no more runs after a three-run second inning. And the Mets went to work on Cole Hamels.
"I just wasn't getting ahead of hitters," said Hamels. "Ultimately, you have to be able to get the quick outs against those guys. Not having them turn over the lineup as quickly. I had a couple of walks that came back to hurt me."
Wright started the comeback by singling in Eric Young Jr. in the fourth, then Young's two-out single up the middle in the fifth off Hamels drove in Lagares and Omar Quintanilla to knot the game.
"Take your time, breathe," Young said about his approach. "Breathing is the big focus there.
"You try to take the same swing early in the count you would take later in the count. Sometimes you put a lot of pressure on yourself, and I am guilty of that a bunch. I was able to calm myself."
In the sixth, Duda drew a one-out walk and chugged around from first on Lagares' double up the left-center-field gap, sliding barely under the relay. The Mets led, 4-3, and Hefner, never mind his close call in the fifth, was sent out to protect it through the sixth. After Jon Niese had to leave in the fourth inning Thursday night with shoulder problems, the Mets had burned much of their bullpen in Atlanta.
"I knew I had a minimum of six innings tonight, whether that was even 140 pitches," Hefner said.
After Jimmy Rollins' one-out single, Chase Utley lined out hard to Lagares and Michael Young struck out on a foul tip. After six innings and 107 pitches, Hefner called it a good night.
"He had to get through the sixth inning in order for us to be a successful club," said Collins. "You have to learn how to battle through sometimes. Jeremy didn't let us get too far behind."
Hefner was almost out of the second with only two runs, until a Daniel Murphy bobble on Rollins' grounder produced a third. But three runs are no longer insurmountable to the Mets these days, and a one-run lead suddenly seems plenty to a team with the 27th-highest bullpen ERA in baseball. The three scoreless innings Friday night extended its streak to 8 2/3 innings.
Rice struck out Ryan Howard and Domonic Brown consecutively in pitching a scoreless seventh. And Torres and Parnell pitched 1-2-3 frames in the eighth and ninth to shut the Phillies down and give the Mets the opener of the three-game series.
"I thought it was a great win for us," said Collins. "We are down, 3-0, to Cole Hamels, and to come back and win this one was big, especially for the shape our bullpen is in."
Jay Greenberg is a contributor to MLB.com. This story was not subject to the approval of Major League Baseball or its clubs.