Ethier given night off to rest sore knee
Ethier given night off to rest sore knee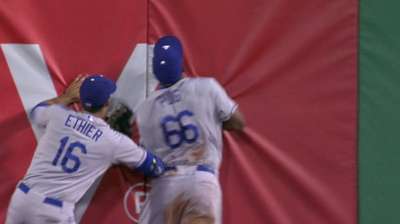 SAN DIEGO -- Andre Ethier was out of the Dodgers' starting lineup Friday night because of a sore left knee, but the outfielder said he would play Saturday.
Manager Don Mattingly said Ethier incurred the injury last Friday when he bumped into right fielder Yasiel Puig while running down a fly ball to the wall in Pittsburgh.
Mattingly said the fact that Ethier played with discomfort through Wednesday's doubleheader and Thursday night after a cross-country flight contributed to the day off.
"The knee has a little swelling and we've asked a lot of him," said Mattingly, who pressed Ethier into center-field duty with Matt Kemp sidelined. "He needs a day. He and Puig ran together in Pittsburgh and he hit the wall, but I don't know if that was necessarily it."
Skip Schumaker started in center Friday night and Elian Herrera was in left.
Ken Gurnick is a reporter for MLB.com. This story was not subject to the approval of Major League Baseball or its clubs.