Carroll starts at shortstop against southpaw
Carroll starts at shortstop against southpaw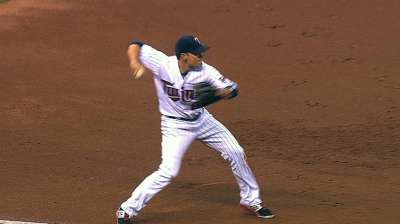 CLEVELAND -- With left-hander Scott Kazmir pitching for the Indians on Friday night, Twins manager Ron Gardenhire decided to go with Jamey Carroll at shortstop rather than Pedro Florimon.
In 13 career plate appearances against Kazmir, Carroll is 6-for-10 with a double and two walks. He also has an RBI and a couple of strikeouts. Florimon, a switch-hitter, is batting .103 over 44 plate appearances against southpaws this season.
"Tonight was basically just the way it worked out," Gardenhire said. "[You're] trying to find a way to get him in the lineup, because he needs to play, because those guys got to help you one way or another -- you got to use them all. And tonight, if you're not going to start him against this guy, he'd probably sit for another four or five days.
"This is a very important night for him to go out there."
In 36 games, Carroll is hitting .205 (26-for-127) with six RBIs. Florimon, on the other hand, is batting .228 (39-for-171) with three homers and 22 RBIs over 56 games.
With a right-handed pitcher on the hill, Florimon has a .265 batting average and .342 on-base percentage.
"Right-handed, it's not been great. Left-handed, I still feel confident that he can do it," Gardenhire said. "The unfortunate part is you can't play them all, and Flori's going to have to sit. You know what, he'll be back out there tomorrow, probably a good chance. I like what Flori does, though. He's a [heck] of a shortstop."
Mark Emery is an associate reporter for MLB.com. This story was not subject to the approval of Major League Baseball or its clubs.