Weaver outpitched by Pirates rookie Cole
Weaver outpitched by Pirates rookie Cole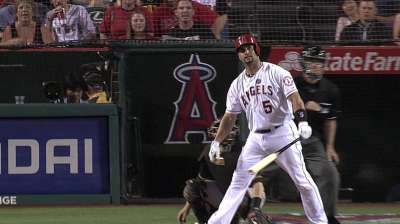 ANAHEIM -- When the Angels erased a seven-run deficit against Felix Hernandez on Thursday night, they thought -- or, at least, hoped -- they had turned an important corner in this frustration-filled season.
On the other side of that corner, though, was the explosive young right arm of Pirates soon-to-be-ace Gerrit Cole.
And on Friday night, there would be no comebacks.
Spotted an early three-run lead thanks to a couple of homers off Jered Weaver, Cole constantly pumped triple-digit fastballs, was nearly flawless through the first six innings and let his bullpen take care of the rest, handing the Angels a 5-2 loss on the heels of six victories in the last eight games.
While Cole lit up the radar gun, Weaver had to reach back to hit the high-80s and once again struggled. In six innings, he was charged with four runs -- one of them on a ball lost by center fielder Peter Bourjos in the twilight -- on a season-high nine hits, moving to 1-4 with a 4.65 ERA in his first seven starts. Over his last three starts, Weaver has given up 13 earned runs in 17 2/3 innings. And over these first 11-plus weeks, we have yet to see the vintage, dominant Angels ace.
"It's in there," Angels manager Mike Scioscia said. "I think right now it's just command. His velocity isn't any different than it was last year. Once he starts commanding counts a little bit better and being able to really open up counts for his secondary pitches, he's going to be fine. Right now, he's just battling to get back in counts and missing up with his fastball. And his command of his fastball, when it's on, it's as good as there is."
The Angels (33-41) finally got to Cole in the seventh. Albert Pujols hit a leadoff homer, Mark Trumbo walked on four straight pitches, Howie Kendrick lined a ball off his upper left thigh before being thrown out at first and Alberto Callaspo made it a two-run game with a single up the middle.
But Vin Mazzaro and Jason Grilli, members of a Pirates bullpen that boasts the second-best ERA in the National League, quickly recorded the final eight outs.
Cole, taken with the first-overall selection out of UCLA in 2011, retired the first seven batters in order, then gave up back-to-back bloop singles to Hank Conger and Bourjos in the third, then retired 11 in a row before Pujols' 13th homer of the year (and 488th of his career).
Of the 88 pitches he threw, eight were at least 100 mph, according to PITCHf/x. And the 101-mph fastball he threw Alberto Callaspo in the second was the fastest pitch thrown by a starting pitcher not named Justin Verlander in the last five years, according to ESPN Stats and Info.
"First time he did it, I was like, 'Is that gun right?'" Bourjos said. "And then he did it again and obviously it was. And he was doing it effortlessly. So I think, overtime, he's going to get better. He's probably going to get a better feel for his slider and command that the more time he has. But it's pretty impressive."
The homer to Pujols was the first one Cole had allowed in 18-plus innings, the proceeding walk was also a first. And when he exited in the seventh -- to a warm reception from the 40,136 fans at Angel Stadium, many of whom saw him pitch at nearby Orange Lutheran High School -- he had pitched 6 1/3 innings of two-run ball, walking one, striking out five and scattering four hits.
In his first three starts -- while matched up against Tim Lincecum, Zack Greinke and Weaver -- Cole is 3-0 with a 3.44 ERA.
"I've been really fortunate, getting to face two Cy Young guys and Weaver -- that's like $400 million worth of pitching," Cole said. "And guys have been scoring runs. That allows me to attack and not have to do anything crazy."
Pedro Alvarez led off the second with a homer, and on the exact same pitch -- an 85-mph two-seam fastball that stayed up -- Jordy Mercer did the same four batters later, hitting a two-run shot that gave the Pirates a 3-0 lead. The fourth run was an unfortunate one, Bourjos losing Starlin Marte's two-out fly ball to deep center field in the summer twilight, resulting in the RBI triple that gave the Pirates a four-run lead.
But Weaver still wasn't, well, Weaver.
His velocity is essentially the same last year, and the Angels' ace isn't using the seven weeks he missed with a broken left elbow as an excuse for not being in vintage form.
"Four or five starts in, now I should be where I need to be," he said. "Just some unfortunate things, and one big inning has been the tale of the last three starts. I need to learn how to limit the damage and get some outs when I need to."
Alden Gonzalez is a reporter for MLB.com. Read his blog, Gonzo and "The Show", and follow him on Twitter @Alden_Gonzalez. This story was not subject to the approval of Major League Baseball or its clubs.