SoCal native Cole bests Weaver at Angel Stadium
SoCal native Cole bests Weaver at Angel Stadium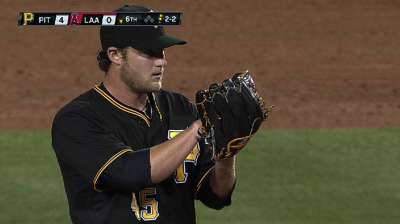 ANAHEIM -- Here in southern California, under the palm trees and the klieg lights, life is said to flash by at a quicker pace.
So, naturally, Gerrit Cole, a son of Orange County, merged into the fast lane on Friday night. He delivered four-hit ball for 6 1/3 innings in the Pirates' 5-2 victory over the Angels, relying on several 100-plus mph fastballs to help him become the second pitcher in Pittsburgh history to start and win each of his first three appearances.
"Yeah, I let a few go tonight," Cole said sheepishly of his fastballs, which maxed out at 101 mph.
Or "90-and-11" to Pirates manager Clint Hurdle, who vouched for the legitimacy of the radar gun that is set up behind home plate in Angel Stadium.
"Seemed about right," said Hurdle, basing that judgment on readings for a couple of familiar relief arms that closed out the Pirates' 44th win, Vin Mazzaro and Jason Grilli, who earned his 26th save.
"Their reads were accurate, what we'd seen throughout the season," the manager testified.
Without doubt, Cole, who'd topped out at 97 mph in two introductory starts in PNC Park, hit the new gear because he was pitching in his "backyard," the park he began visiting as a preschooler. As cool and focused as he can be, Cole melted a little bit when he began to warm up in the Pirates bullpen to the accompaniment of a familiar tune.
"It hit me when they started playing, 'Calling All Angels.' I've been listening to that song since I was 6 years old," Cole said. "That's when I had to take a step back and go, 'Whoa, I'm in this stadium.' It was exciting."
And polished, dominant. Impressive.
"That ball was sinking. It wasn't just 101 straight," said Angels center fielder Peter Bourjos, who had one of the four hits off Cole. "The first time he [hit 100], I was like, 'Is that gun right?' And he did it again, so obviously it was. And he was doing it effortlessly."
Cole had the Angels -- who had amassed 52 hits in a just-concluded four-game series with Seattle -- blanked on two hits until Albert Pujols led off the bottom of the seventh with a homer. It was a trite act for Pujols who, even though out of St. Louis and the National League for two years, leads all active players with 49 home runs off Pittsburgh.
That seventh became even more complicated for Cole: He issued his first big league walk, to Mark Trumbo, then had Howie Kendrick smash a comebacker off his left thigh. Alberto Callaspo then singled to knock in Trumbo, who had taken second on Kendrick's grounder, and knock out Cole.
"It's pretty sore," said Cole, glancing down at the bulky ice pack under his sweatpants. "Got me right on it, good thing I got fat legs. I think we'll be all right."
Cole had taken a 4-0 lead into that seventh inning, built on Pedro Alvarez's solo shot and Jordy Mercer's two-run blow in the second, and Starling Marte's RBI triple in the fourth.
Cole even had something for the worrywarts who fretted over the fact he'd struck out only three in his first two starts: five whiffs, including two of Pujols.
"His best outing to date, for me," Hurdle said. "His fastball played big today, the breaking ball came into play in the third inning. He was aggressive to both sides of the plate with the fastball.
"He pitched like he was pitching in front of friends and family. A little more adrenaline, a little more zip in his step. He got after it. He didn't want to let anybody down."
Each Cole win has featured an Alvarez homer, as the streaking third baseman hit his 17th of the season. Meanwhile, Mercer has hit .333 (8-for-24) in the seven games since taking over as the regular shortstop, although Friday's homer gave him his first RBIs of the week.
Hurdle had admitted looking forward to his first in-person look at Angels outfielder Mike Trout. He saw more than he wanted in the fifth when, with one on and two out, Trout levitated for a diving snare of Gaby Sanchez's hooking liner before it could get lost in the left-field corner.
"That was an outstanding play, absolutely," said Hurdle before giving a prop to his own guy, Marte. "Two of the better left fielders in the game are in this series."
The victory was a pleasure for Hurdle in one other sense: He didn't have to see his pitchers go through former protege and still good-friend Josh Hamilton for it. The outfielder, who had his best season under Hurdle's batting coaching with the 2010 Rangers, missed the game, and is likely to sit out the entire series, with a right-wrist injury.
It was the latest dismal development for Hamilton, who is experiencing a trying first season with the Angels. Even before the wrist issue, he was hurting from his latest 0-for-15 drought. Hurdle was relieved not to have to see Cole add to that.
Tom Singer is a reporter for MLB.com and writes an MLBlog Change for a Nickel. He can also be found on Twitter @Tom_Singer. This story was not subject to the approval of Major League Baseball or its clubs.