Twins' win streak snapped, bats quiet behind Deduno
Twins' win streak snapped, bats quiet behind Deduno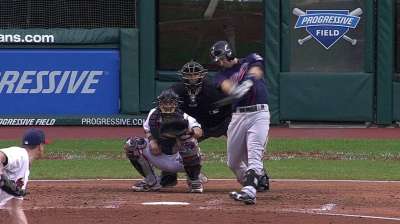 CLEVELAND -- The Twins' ascent through the American League Central standings was interrupted by the second-place Indians in Friday's series opener at Progressive Field.
Brian Dozier's sixth-inning home run was all Minnesota could muster off Indians left-hander Scott Kazmir and a pair of relievers. Twins starter Samuel Deduno started strong but wound up allowing four runs in six innings as the Twins dropped the first of three games, 5-1.
"Looked like we made some pretty decent pitches, but they started finding some holes," manager Ron Gardenhire said. "Sammy did his job. We had five hits and really didn't put too much pressure on them offensively."
"I'm not happy because we lost the game, but I think I'm happy with what I'm doing," Deduno said. "I was feeling pretty strong, pretty good. My arm, my body, everything was pretty good."
Before Friday, the Twins had won four of their past five games, averaging six runs per contest. They've now gone deep in six straight, as well.
After Kazmir had blanked Minnesota for five innings, Dozier hit the second pitch of the sixth inning into the left-field bleachers for his seventh home run of the season.
"He's swinging, and when he gets that pitch, he's been cranking it pretty good," Gardenhire said. "Like I said, unfortunately, we just didn't do enough of that tonight. But Dozier's swinging good."
"I'm seeing the ball good," said Dozier, who hit six home runs in 84 games last year.
Aside from the second baseman's solo shot, every other runner to cross home plate wore home whites.
With one out in the second inning, Michael Brantley doubled into the right-center gap and came home on Mark Reynolds' shot off the left-field wall. Reynolds slid through second, and appeared surprised that he was ruled safe. He had already begun walking off the field when the safe call was made, but Dozier applied another tag before Reynolds could get back to the bag for an out.
An inning later, another odd play resulted in a run for the Indians. Drew Stubbs was on third base after walking and advancing on Michael Bourn's single to right. Jason Kipnis hit a little flair behind second base, which Dozier caught and then dropped as he was reaching for the ball. With the ball on the field, Stubbs tagged and scored on the unusual sacrifice fly.
"That was an unbelievable piece of baserunning by Stubbs," Cleveland manager Terry Francona said. "He has no business scoring right there.
"There's no reason to go halfway there. If that gets over his head, he's going to walk home. But the instincts to be able to go on that and then to have the speed to match. You'll find some guys who have great instincts who would be out by 20 feet."
Those two runs were the only ones on the board for the Indians when Dozier went yard to cut the deficit to one run, and a favorable outcome seemed all the more likely for Minnesota.
But the Twins wasted a scoring opportunity against Kazmir in the seventh. A few pitches after Justin Morneau looked at strike three, Francona and the Indians' trainer came out to the mound to check on the left-hander. Kazmir stayed in the game, and Trevor Plouffe doubled to deep center. But Minnesota couldn't capitalize, as Oswaldo Arcia and Clete Thomas went down looking.
"When you get them out there, you got to come up with a big hit," Gardenhire said. "You look at it two ways: we missed an opportunity or he made pitches when he had to. And by the look [of] the whole work tonight, his performance, he made pitches when he had to, because it didn't just happen that inning. He made them pretty much all night on us. We got him in a situation there, and he came up with some big pitches."
Kazmir limited the Twins to that one run over seven innings of work. The lefty allowed five hits and struck out seven batters without walking anyone.
"He threw the ball well," Gardenhire said. "We know we have a lot of lefties in our lineup. If you got command of your pitches and you're able to do those things, you can sometimes get to us a little bit. We've hit lefties and we got good hitters. But he did a really nice job tonight. You just got to tip your hat to him."
The only Twin to record multiple hits was Plouffe, who went 2-for-3. Minnesota left four men on base and came up empty in all six chances with runners in scoring position.
"We were one hit away, it seemed like, a few times," Morneau said. "Sometimes you get those, sometimes you don't. Today, we didn't. It seemed like he got better when he got guys on base."
While the Twins gave chances away in the seventh, Cleveland did the opposite. The home team gained separation in the inning, which began with another single off the wall by Reynolds and a walk to Lonnie Chisenhall. At that point, Josh Roenicke replaced Deduno. After Roenicke induced a flyout from Yan Gomes, Stubbs plated Reynolds with a single to left.
Then, Roenicke made way for Brian Duensing, who let two in on a soft liner from Kipnis that just eluded shortstop Jamey Carroll.
"It was just a tough night," Gardenhire said, "one of those nights where they found some holes and we couldn't get the ball to go through anywhere."
The defeat snapped a three-game winning streak for the Twins, who at 33-37 sit in fourth place in the American League Central, six games behind Detroit.
Mark Emery is an associate reporter for MLB.com. This story was not subject to the approval of Major League Baseball or its clubs.