Braves place Pena on disabled list, call up Janish
Braves place Pena on disabled list, call up Janish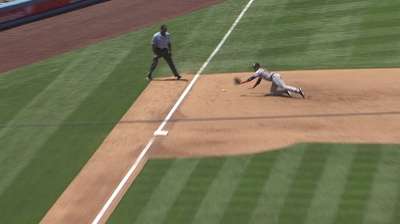 MILWAUKEE -- Braves manager Fredi Gonzalez couldn't wait any longer for Ramiro Pena's sore right shoulder to heal.
Atlanta placed the infielder on the 15-day disabled list on Friday and recalled Paul Janish from Triple-A Gwinnett. Pena hadn't played since Sunday with what's currently being diagnosed as a right shoulder strain, and he still didn't feel comfortable throwing after five days of rest. He visited with team doctors, but will also seek an outside opinion.
"The move is we can't use Pena," Gonzalez said. "Sometimes you want to defend and you can't, so we decided to DL him. He's getting all the tests and all that kind of stuff and I'm sure we'll come up with some kind of diagnosis."
In the meantime, Janish received the callup to be used for some late-inning defensive stability. The 30-year-old was plucked from the Reds' Minor League system last season and was called up just before the All-Star break, when shortstop Andrelton Simmons went down with an injury.
Gonzalez touted Janish's defensive ability to play any position in the infield, and he said the right-hander's offensive numbers from last season don't reflect the clutch hits he'd produce during rallies. On Friday, the Braves manager even went so far as to call Janish the most valuable player of last season.
"He saved our butts last year," Gonzalez said. "He comes up, he's a guy that can defend, we know him, we love him, he knows the game, he can play all the positions in the infield, he'll come in late in the game to play defense. He's a guy that you feel comfortable if Simmons needs a day off."
Pena has a history of shoulder problems that dates back to arthroscopic surgery he underwent seven years ago. Gonzalez said the team is hopeful the problem is unrelated and will be merely classified as soreness.
Ethan Asofsky is an associate reporter for MLB.com. This story was not subject to the approval of Major League Baseball or its clubs.