Heyward 'looks like himself' after slow start
Heyward 'looks like himself' after slow start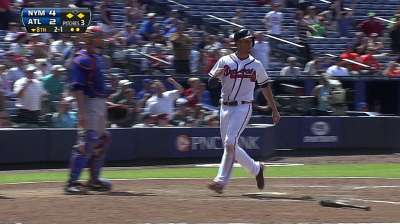 MILWAUKEE -- Once again, Jason Heyward is proving he heats up with the weather. Heyward underwent an appendectomy earlier this season that caused him to miss just under a month of action, but the Braves' power-hitting outfielder is finally starting to show signs of his old self.
Heyward is hitting .320 with a .370 on-base percentage, three home runs and five RBIs in the month of June after starting the first 30 games of the season batting .146 with two home runs and eight RBIs.
After 50 games last season, the Braves' power-hitting outfielder was hitting .233 with six home runs and 23 RBIs. He similarly turned it on in June, hitting .348 with six home runs and 23 RBIs.
"He's still learning to manage his own game," Braves hitting coach Greg Walker said. "Sometimes it takes a little while to figure those things out. He's an ultra talent and he's really swinging it well for us this month now. He looks like himself."
Walker said Heyward was working through some timing and mechanics issues -- on top of the appendicitis -- earlier in the season but has looked solid as of late.
"I feel confident every time he goes to the plate that he has a chance to get a base hit," Atlanta manager Fredi Gonzalez said. "His numbers are getting better. His at-bats are getting better. At the end of the year, I think we're going to get a Jason Heyward-type year."
Ethan Asofsky is an associate reporter for MLB.com. This story was not subject to the approval of Major League Baseball or its clubs.