Aoki returns from paternity list; Prince optioned
Aoki returns from paternity list; Prince optioned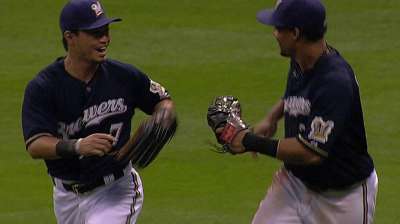 MILWAUKEE -- Norichika Aoki didn't miss a beat.
After being away from the Brewers for two days to see the birth of his second child on Thursday, Aoki returned to Milwaukee's lineup on Friday on short rest and had three hits, a stolen base and a run-saving catch in the Brewers' 2-0 win over the Braves at Miller Park.
"I was thinking he might come a little earlier than the due date, but he ended up coming on the due date. I just couldn't wait," Aoki said of his son after Friday's game. "I was at the hospital all day yesterday and I didn't get much sleep last night. I'm glad that my baby is healthy."
Aoki was placed on the Brewers' paternity list Wednesday and he missed the team's final two games of an 11-day, nine-game road trip in Houston. But the club removed the right-fielder from the paternity list Friday and optioned Josh Prince to Triple-A Nashville in a corresponding move. Prince was called up from Nashville on Wednesday to take Aoki's place on the roster.
Aoki arrived to Miller Park around 5:30 p.m. CT on Friday for the 7:10 p.m. start and returned to his usual leadoff spot in the lineup. He hit three singles, but his biggest play may have come in the field in the fifth inning.
With two outs and runners on first and second, Aoki made a sliding catch in the right center field gap to rob Andrelton Simmons of extra bases and save the Brewers at least one run.
After the game, Aoki pointed out the wristband that he was still wearing, which was required by the hospital to visit his wife.
"It feels like [my son is] right here with me while I was playing," Aoki said.
Kevin Massoth is an associate reporter for MLB.com. This story was not subject to the approval of Major League Baseball or its clubs.