Narveson outrighted to Nashville to get more innings
Narveson outrighted to Nashville to get more innings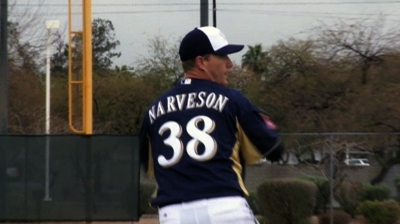 MILWAUKEE -- The Brewers outrighted Chris Narveson to Triple-A Nashville after Thursday's game in Houston, removing the left-handed pitcher from the 40-man roster.
Narveson started the season in a relief role to ease back into the starting rotation after undergoing season-ending shoulder surgery in 2012. But after just two relief appearances in early April, Narveson sprained his left middle finger and moved back to the disabled list.
The 6-foot-3 lefty started a rehab assignment at Nashville on May 30, but struggled to a 7.00 ERA in five appearances, totaling 18 innings.
"We think he needs to be on a team where he's throwing every fifth day," Brewers manager Ron Roenicke said. "He's had two things with the [shoulder] surgery and bouncing back with the finger. He just needs an atmosphere where he can perform well and try to get back here."
Narveson estimated he threw 75 or 80 pitches in his final two Nashville starts on June 14 and Wednesday, and he said his goal is to "go down there, get myself ready and hopefully make it back up."
"It's one of those things where it's not always the easiest thing to kind of put your head around, because baseball is a complex game," Narveson said. "I want to pitch, if it's Nashville or here. I know I've got to do that to be able to get back to where I want to be, physically and mentally."
Narveson went 11-8 with a 4.45 ERA in 2011 and 12-9 with a 4.99 ERA in '10 with the Brewers, surpassing 160 innings pitched each year.
"I love the game, I want to play and I love the Brewers," Narveson said. "It's one of those things where you want to go work your butt off to get back where you want to be. If you're not healthy, you can't do that."
Kevin Massoth is an associate reporter for MLB.com. This story was not subject to the approval of Major League Baseball or its clubs.