Bullpen session an encouraging sign for Estrada
Bullpen session an encouraging sign for Estrada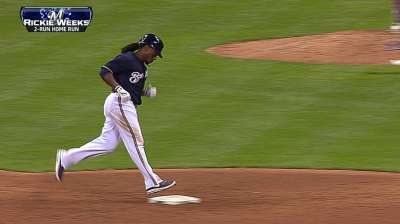 MILWAUKEE -- Brewers right-handed starter Marco Estrada threw a bullpen session Friday, and he says a rehab stint may come soon after a left hamstring injury he sustained in early June.
Estrada left his June 4 outing against the A's after feeling a pop in his left hamstring on a fifth-inning pitch. He was placed on the 15-day disabled list the next day.
"It's feeling much better; I'm able to run at 100 percent," Estrada said. "I think I might be heading out to get a rehab start somewhere. I'm not 100 percent sure what we're doing, but that's what it sounds like right now."
Estrada, who did not travel with the Brewers on their recent 11-day, nine-game road trip, said although he struggled with location, his bullpen Friday was the best he's thrown so far in terms of how his leg felt.
Brewers manager Ron Roenicke said Estrada would get "checked out" by team doctor William Raasch before Friday's game, and if everything goes well, he should start his rehab assignment soon.
"Marco's looking OK," Roenicke said. "He threw a light bullpen today. If everything goes well, he should be pitching in two, three days."
Estrada was just finding his stride before his hamstring injury. The righty went 2-2 in May with a 5.40 ERA, despite allowing eight earned runs to the Cardinals in 3 1/3 innings to start the month.
"I'm pretty excited that I'll be going out soon to make a start somewhere," Estrada said. "So I just have that left and I'll get my butt back over here."
Kevin Massoth is an associate reporter for MLB.com. This story was not subject to the approval of Major League Baseball or its clubs.