Dozier excelling in leadoff role
Dozier excelling in leadoff role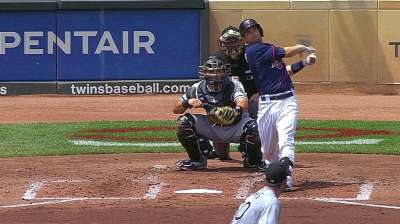 CLEVELAND -- As the Twins began a three-game weekend series at Progressive Field, second baseman Brian Dozier found himself at the top of the batting order for the third game in a row.
Dozier entered Friday with a .375/.524/1.063 slash line over his past five games. In that span, he's hit two doubles and a trio of homers while driving in seven runs and scoring six. Friday marked the 23rd time this season that Dozier led off the lineup.
"Those are table-setters. You put guys up there to get on ahead of your guys that are supposed to be driving them in," Twins manager Ron Gardenhire said, "Now, he's driving them in, too, when the lineup rolls over. The guys at the bottom have been doing pretty decent themselves. He's come up with a couple of big home runs and knocked in some runs, too. But, the big thing with him is, he's being aggressive right now."
Dozier's two-run homer on Thursday was one of four hit by the Twins in their 8-4 win over the White Sox. The bottom three batters -- Oswaldo Arcia, Clete Thomas and Eduardo Escobar -- hit homers, too. Prior to Thursday, Minnesota had never received home runs from its leadoff, seventh, eighth and ninth hitters in one game.
And when such production is added to what guys like Joe Mauer, Ryan Doumit, Justin Morneau and John Willingham are capable of contributing, well, things suddenly look very bright for the Twins.
"You've got a pretty good bunch of guys right there that can do some damage and put some numbers up," Gardenhire said.
Mark Emery is an associate reporter for MLB.com. This story was not subject to the approval of Major League Baseball or its clubs.