Injured Hicks, Ramirez progressing in Minors
Injured Hicks, Ramirez progressing in Minors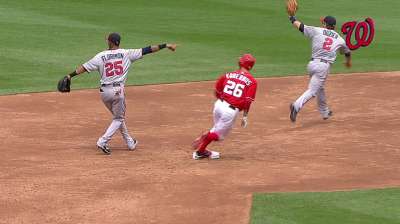 CLEVELAND -- The outfield at Triple-A Rochester is about to be infused with some Major League talent.
Both Aaron Hicks and Wilkin Ramirez will likely join the Red Wings sometime soon as they return from the disabled list. While Ramirez is still rehabbing with Class A Advanced Fort Myers, Hicks is scheduled to travel to Louisville on Sunday to join Rochester.
"He's going to run the bases tomorrow. It was too wet to do it today," assistant general manager Rob Antony said about Hicks. "Tomorrow, he's going to do some sprints, and then hopefully if all goes well, he'll go join Rochester on Sunday night.
"Number 1, he's got to get healthy, and Number 2, he's got to swing the bat and show he's ready to come back up here and help us."
Hicks went on the DL on June 10 with a strained left hamstring. The center fielder won't be back with the Twins before they begin an eight-game homestand on Thursday, according to Antony. In 55 games, Hicks is batting .179 (34-for-190) with six home runs and 19 RBIs.
As for Ramirez, he's on the DL with concussion-like symptoms, and he hasn't played since May 25. The right fielder is hitting .244 (11-for-45) with five RBIs in 23 games. On Thursday, Ramirez went 0-for-3 with a strikeout, a walk and a run scored for Fort Myers.
In his first rehab appearance, Ramirez was the designated hitter. Moving forward, he'll play five innings in the field and likely a full game after that, getting several plate appearances per game.
"As long as he's healthy, he's the same type thing. He's got to produce, and then we'll go from there," Antony said. "He's in Fort Myers, so we could transfer him to Rochester to face better pitching and better competition before he comes up.
"[There's a] number of things we could do. It'll all kind of be dictated by how he's swinging it, and how he's feeling and everything and what's going on here."
Mark Emery is an associate reporter for MLB.com. This story was not subject to the approval of Major League Baseball or its clubs.