Reyes doubles, scores in first rehab game
Reyes doubles, scores in first rehab game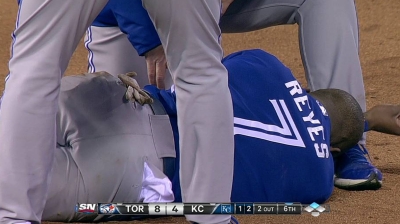 TORONTO -- Jose Reyes' weekend series with Triple-A Buffalo will be a deciding factor as to when the Blue Jays' shortstop will rejoin the big club.
Reyes got off to a solid start, playing all nine innings on Friday night against Durham and going 1-for-4 with a double and run scored. Reyes is scheduled to play nine innings at shortstop in all three games, including Sunday, which will be his first day game after a night game.
With Reyes' return imminent, there has been plenty of talk on whom he will replace and what the Blue Jays' lineup will look like once he returns.
Manager John Gibbons chose not to speak on the impending move, but is getting a clearer idea of how his lineup will shape up.
"He'll definitely be at the top," Gibbons said of Reyes. "We're not sure what we'll do after that."
The most likely move will see Melky Cabrera slide behind the hot-hitting Adam Lind into the five-hole -- something that Gibbons seems to be leaning towards at the moment.
Evan Peaslee is an associate reporter for MLB.com. This story was not subject to the approval of Major League Baseball or its clubs.