Gibbons stacks lineup with lefty hitters vs. O's
Gibbons stacks lineup with lefty hitters vs. O's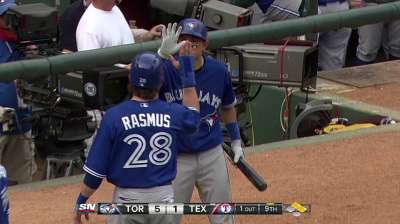 TORONTO -- With a right-hander on the mound for the Orioles, and knuckleballer R.A. Dickey on the hill for Toronto, Blue Jays manager John Gibbons plugged in every left-handed bat into his lineup for the series opener on Friday.
The lineup featured only two right-handed batters: Jose Bautista and Edwin Encarnacion. It's a lineup that Gibbons plans to run out whenever there's a righty on the mound.
"That's our lineup against righties," Gibbons said. "The only difference is [Josh] Thole being in there to catch Dickey."
In its current configuration, the lineup features an infield defense of Macier Izturis at third, with Munenori Kawasaki and Emilio Bonifacio patrolling the middle of the infield, something that's become the norm the past week or so.
Evan Peaslee is an associate reporter for MLB.com. This story was not subject to the approval of Major League Baseball or its clubs.