Braves' bats stay quiet to open series in Milwaukee
Braves' bats stay quiet to open series in Milwaukee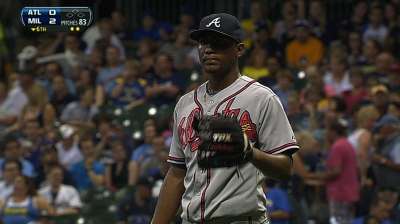 MILWAUKEE -- Three days after Mets starter Matt Harvey carried a no-hitter against the Braves into the seventh inning, Atlanta was held hitless through the first four innings of Friday's series opener against the Brewers at Miller Park.
Milwaukee starter Wily Peralta's pitch count rose early, but he held the Braves to two hits over seven innings in the Brewers' 2-0 victory. Harvey is one of the early favorites to start the All-Star Game next month, while Peralta entered Friday's game with a 6.08 ERA and one win in his last eight starts.
"It's frustrating, but there's not really much you can do about it," Braves center fielder B.J. Upton said. "You can't really put a finger on it. He threw a lot of sliders, a lot more than we expected him to. From watching the video, he was a lot more in the zone than we thought he would be."
While Peralta had a career night, he also issued four walks to give Atlanta chances early in the game, even when its offense wasn't generating any hits. But the Brewers right-hander worked his way out of the trouble he created, and finished his outing without allowing a run for the first time all season.
Despite his team's poor effort on offense, Atlanta manager Fredi Gonzalez said he's not worried. The Braves are still in command of the National League East, but they have lost six of their last 10 games. On a night like Friday, when opportunity after opportunity was squandered without result, the game seemed to sum up the frustrations of one of the rougher patches of their season.
Atlanta starter Julio Teheran battled through sticky situations from the start. He allowed the first three Milwaukee batters of the game to reach base, plunking Brewers center fielder Carlos Gomez to load the bases. Teheran was immediately challenged in a tough spot, but picked off Gomez at first and held Milwaukee to just a run on an Aramis Ramirez sacrifice fly.
Teheran once again worked out of a dangerous situation when he walked the bases loaded with two outs in the third, but Milwaukee left fielder Logan Schafer grounded out to second to end the inning.
"The first inning, he minimized the damage there," Gonzalez said. "He had bases loaded, there was the sac fly, and he was able to get the next couple guys out. There was another inning similar. That's good to see a young pitcher do that and not panic."
Though Teheran hit two batters, surrendered eight hits and had to work out of a couple of jams, he allowed just two earned runs over 6 1/3 innings for his seventh quality start in his last eight outings. Brewers shortstop Jean Segura hit a solo home run in the bottom of the fifth for the only other blemish on Teheran's line.
But Teheran didn't help the Braves struggles at the plate. He had an opportunity to lay down two key bunts, but failed to execute on each chance. In the third inning, when Peralta walked the first two batters he faced, Teheran bunted into a forceout at third, and neither leadoff man Andrelton Simmons nor power-hitting Jason Heyward could drive in the runner from second in the proceeding at-bats.
Atlanta's best offensive chance came in the top of the fifth inning, right after Upton broke up Peralta's no-hit bid with a leadoff single. In the next at-bat, Dan Uggla -- who said the contact lenses he was wearing for the first time drastically improved his eyesight at the plate -- drove the ball to center field, but Gomez tracked it at the wall for a long out.
With his team struggling to generate runs and Teheran again at the plate, Gonzalez called a suicide squeeze to send Upton home from third. Teheran pushed the ball short enough down the first base line that Peralta fielded it cleanly and tossed it home with enough time for Milwaukee catcher Martin Maldonado to block the plate and apply the tag. Teheran admitted after the game that he missed his placement on the bunt, and his manager said it was a tough play.
"It's hard to read, but I thought from my position in the dugout, [Upton] had a nice read," Gonzalez said. "You've got to give a little credit to Peralta coming off the mound; he's a big boy coming off the mound and he made a nice play. It's one of those plays if we executed another foot toward first base it would have worked, or at the very least you make them execute."
The Braves had another opportunity in the fifth with third baseman Chris Johnson on third, but Brewers right fielder Norichika Aoki made a sliding catch to preserve Peralta's scoreless outing on a ball that Simmons scorched into the gap.
"This is the guy that we hope we see," Brewers manager Ron Roenicke said about Peralta. "I thought he kept it in control really well. There were a couple times I could see he was a little frustrated, but I thought he bounced back well after he was frustrated and he made some pitches.
"He was really down well in the game. His fastball almost every time was down."
And Atlanta could never pounce on it and find a hole. Gonzalez said he thought several balls were going to drop in for hits, but he gave credit to the Brewers' defense, specifically Segura at short.
Atlanta had come from behind to win an NL-leading 21 victories on the season, but the Brewers' bullpen silenced a ninth-inning comeback. With the Upton brothers on first and second, Uggla lined out to Gomez to end the game on a quiet night for the Braves' bats. It was just the third time this season the Braves were held to two hits.
"We didn't put up any runs," Uggla said. "We had a couple opportunities here and there, so we need to start taking advantage of those. But we didn't tonight."
Ethan Asofsky is an associate reporter for MLB.com. This story was not subject to the approval of Major League Baseball or its clubs.