Peralta finds Miller Park magic with dominant outing
Peralta finds Miller Park magic with dominant outing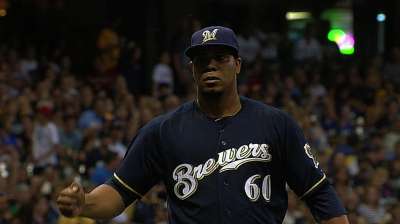 MILWAUKEE -- On Friday night, the Brewers got a glimpse of what they thought they would have from the start of the season -- nasty starting pitching, flashy defense and a little bit of power, which combined for a 2-0 series-opening win over the first-place Braves at Miller Park.
The full team effort for which Milwaukee waited two months was on display, and that effort has been consistent in June. But the full team they brought into the season was not on the field.
With Ryan Braun, Corey Hart, Marco Estrada and Hiram Burgos still out with injury, it was up to Wily Peralta, Norichika Aoki and Jean Segura to shoulder the burden on Friday. Their efforts were just enough to slip past the Braves.
As it has most of the season for the Brewers -- good or bad -- it started with the man on the mound, in this case Peralta. The right-hander blanked the Braves over seven innings, allowing a season-low two hits. The righty walked four and struck out four to earn the win.
"This is the guy that we hope we see," Brewers manager Ron Roenicke said. "With having great stuff, if you're throwing it over the plate, you've got a really good chance. He made some really big pitches today."
Peralta picked up his first win since June 1 to improve to 5-8 on the year. He credited keeping the ball low in the zone as a key to his success.
"I just keep the ball down and make big pitches when I need to," Peralta said. "I just go out there every time to keep the ball down, just down as much as I can. This one was my best [start this season] so far."
Peralta received some help from a short-rested Aoki. The right fielder was with his wife Thursday to see the birth of his son, but he was removed from the Brewers' paternity list on Friday and arrived at the ballpark about an hour and a half before game time to get the start in his usual leadoff spot.
Aoki had three hits -- singles in the first, third and seventh innings -- and scored one of the Brewers two runs, the other coming on a fifth-inning Segura solo home run.
"I was at the hospital all day yesterday and I didn't get much sleep last night. But I'm just glad that my baby is healthy," said Aoki, who was still wearing the hospital wristband required to visit his wife. "It feels like he's right here with me while I was playing."
The right fielder's biggest play may have come on the defensive side of the ball in the fifth inning.
With two outs and runners on first and second, Andrelton Simmons stepped to the plate against Peralta with the Brewers leading, 1-0. Simmons lined the third pitch he saw from Peralta toward the right-center field gap, but Aoki made a long run to snag the ball with a sliding catch to end the inning and likely save two runs.
"At the time, big play," Roenicke said. "[Aoki is] really a well-rounded player. He does everything well. Most of the time when you have players from Japan come over, fundamentally they're almost always good. Nori fits right in to that."
The Braves came up empty on another scoring chance one batter prior to Aoki's gem. With runners on first and third, Braves starting pitcher Julio Teheran squared around and placed a bunt down the first-base line.
B.J. Upton hesitated a second and broke for home after seeing the bunt on the ground. Peralta fielded the ball with his glove and flipped it to catcher Martin Maldonado, who blocked the plate and tagged out a sliding Upton.
"He [broke] late to home plate," Peralta said. "Maldie told me, 'Just throw home.' But I [thought] about going to first. When I saw him break late, I just thought I had a good chance to get him."
Segura matched Aoki's three hits, the big one coming to lead off the fifth inning against Teheran. Segura turned on a third-pitch fastball for his 11th homer, a line drive just inside the foul pole down the left-field line.
The shortstop also made multiple fine defensive plays in the hole to his right behind Peralta.
The Brewers jumped ahead early with a run in the first inning. Aoki and Segura led off with singles before Carlos Gomez was hit by a pitch to load the bases. Aramis Ramirez then brought home Aoki with a sacrifice fly to give the Brewers a 1-0 lead.
Teheran picked off Gomez and Juan Francisco popped out to end the early threat, but the damage was done as Peralta, Francisco Rodriguez and Jim Henderson combined to shut out the Braves on two hits.
"He threw what he needed to throw. We didn't put up any runs," Atlanta's Dan Uggla said of Peralta. "We had a couple opportunities here and there, so we need to start taking advantage of those, but we didn't tonight."
Henderson picked up his 10th save in 12 opportunities with a scoreless ninth inning.
Teheran was the tough-luck loser after tossing 6 1/3 innings, allowing eight hits and two runs.
Kevin Massoth is an associate reporter for MLB.com. This story was not subject to the approval of Major League Baseball or its clubs.