Carpenter cleared to throw after bout with tight back
Carpenter cleared to throw after bout with tight back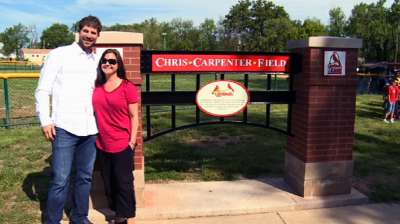 ST. LOUIS -- After a slight setback due to lower back tightness, Chris Carpenter has been cleared to resume his throwing program.
General manager John Mozeliak said Carpenter played catch Friday and will toss a light bullpen session Saturday.
The 38-year-old had progressed to throwing to live batters during the last homestand and was expected to return to that this week until the back tightness put his program on hold. Mozeliak said Carpenter's lower back stiffened up following his last bullpen session Sunday.
Carpenter will continue with his rehab while focusing on stabilization of his lower back. Mozeliak declined to go into specifics on the issue beyond that the right-hander has been cleared to pitch again.
The issue is separate from the thoracic outlet syndrome that initially sidelined him, but Carpenter has dealt with similar problems in each of the past two seasons, and it was back tightness that preceded the nerve issues he dealt with last year.
Mozeliak remains optimistic about Carpenter's progress and said any contributions they do get from Carpenter this season would be a bonus to a rotation that already led the Majors in ERA at 3.20 going into Friday's games.
"There was a chance that this might have really slowed him down, but it looks like it's not going to be that big a deal," Mozeliak said. "The track has been slightly adjusted. Obviously this week has come and gone, so that's been slowed down, but having said that, I think he can just jump back on and start making progress again."
Chad Thornburg is an associate reporter for MLB.com. T.R. Sullivan, a reporter for MLB.com, contributed to this report. This story was not subject to the approval of Major League Baseball or its clubs.