Royals unable to recover from Guthrie's rough night
Royals unable to recover from Guthrie's rough night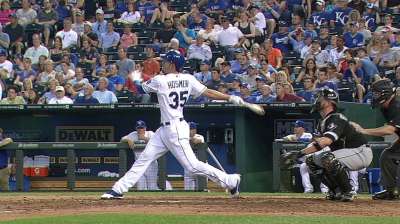 KANSAS CITY -- Perhaps it was payback time for the White Sox.
Jeremy Guthrie had made a regular practice of baffling the Chicago club since he began pitching for Kansas City. Until Friday night, that is. The White Sox chased him in the third inning on the way to a 9-1 rout of the Royals at Kauffman Stadium.
"He just didn't have it," manager Ned Yost said. "It was just one of those nights when he just didn't have much going for him."
But White Sox left-hander Hector Santiago did. He stymied the Royals for eight innings on three hits, although one of them was a home run by Eric Hosmer.
The White Sox snapped a three-game spin and gave the Royals a third straight loss as a robust crowd of 33,830 looked forward to the postgame fireworks.
Since joining the Royals last year, Guthrie was 3-0 with a 0.40 ERA in six starts against the White Sox. He beat them twice this year, including his first career shutout on May 4.
But this time Guthrie was in trouble from the moment he walked Alejandro De Aza to start the game. He gave up two runs in that inning, one on a bases-loaded walk. And, in the third, the White Sox got two more on singles by Alexei Ramirez, Adam Dunn and Conor Gillaspie and Alex Rios' double.
"I couldn't find the strike zone and created a mess in the first inning and then a bunch of base hits in the third inning as well," Guthrie said.
The 2 1/3 innings marked the shortest outing by a Royals starter this season (3 2/3 by Wade Davis on April 24 was the previous low). It was also Guthrie's quickest exit as a Royal. He was charged with six runs on five hits and three walks.
"He has tremendous stuff, and we did a good job of making him throw it over the plate," Dunn said. "He threw some good pitches and we were able to lay off them. When you are able to lay off some pitchers' pitches, you have a chance for a good result."
Yost promptly switched from Guthrie to left-hander Bruce Chen. That immediately went wrong as Dayan Viciedo powered a three-run homer to left field, putting the White Sox ahead 7-0.
Chen also gave up a two-run homer to De Aza in the sixth inning for a 9-0 count.
The blowout loss was something of rarity for the 2013 Royals.
"I can't even think of one," Yost said. "We might have had one but ... "
Then he was reminded of back-to-back losses to Cleveland, 10-3 and 9-0 on April 28-29.
"We haven't had many of them," Yost added.
Santiago, meanwhile, was doing what he'd always done against the Royals -- holding them scoreless. He came into this game with a history of 11 1/3 shutout innings against them in a total of eight games -- seven relief appearances and one start.
He completely dazzled them again for 5 2/3 innings until Hosmer teed off on a home run to deep right-center field. It was Hosmer's third homer of the season.
"He's really starting to turn it around. I can't remember the last time he pulled a home run," Yost said. "But he starting to get back to doing what made him so intriguing and interesting in his rookie year."
Hosmer is hitting .316 (24-for-76) in June with two of his homers.
"I'm starting to drive the ball to right field better, so I think it's still a work in progress, but it's getting pretty good and I feel really comfortable right now and I'm in a good spot," Hosmer said.
Santiago allowed one run on three hits over eight innings, a career high, striking out five and walking one.
"When you go down early like that, it gives him confidence on the mound and it's tough for us to battle back," the Royals' Billy Butler said. "He was throwing it low- to mid-90s and was locating it well, and he threw some good pitches when he had to. He gave up that one hit to Hoz, but other than that, he was cruising."
And the Royals were sinking fast.
"We got beat up pretty good tonight," Yost said. "But it wasn't a game that we gave away, a game that we made a bunch of mistakes in. It was just one of those nights where Jeremy didn't have his good stuff, he didn't have his command. We got behind early, we tried to stop the bleeding, and Bruce came in and gave up a three-run homer but did a great job of saving the 'pen."
Chen pitched 4 2/3 innings with J.C. Gutierrez and Kelvin Herrera each working one scoreless inning.
"It was an ugly game, but you just have to go home and get ready to play a good game tomorrow," Yost said.
That will come rather quickly on Saturday, an afternoon game.
Dick Kaegel is a reporter for MLB.com. This story was not subject to the approval of Major League Baseball or its clubs.