White Sox take out frustrations on Guthrie, Chen
White Sox take out frustrations on Guthrie, Chen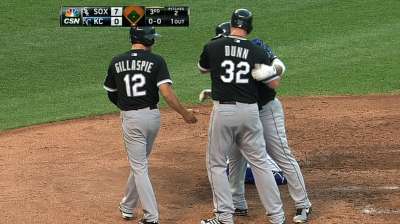 KANSAS CITY -- Hector Santiago was at his best Friday night, and so were the White Sox hitters.
With Santiago delivering a three-hitter over a career-high eight innings and the hitters showing top-notch plate discipline against recent nemesis Jeremy Guthrie, the White Sox operated in perfect harmony for a 9-1 victory over the Royals at Kauffman Stadium. After limping into Kansas City with a three-game losing streak and having dropped 12 games below .500 for the first time this season, the White Sox needed a strong antidote for those recent ills.
Since joining the Royals, Guthrie had been 3-0 versus the White Sox, allowing just two earned runs over 44 2/3 innings. But this time, the White Sox didn't expand the zone and chase Guthrie's pitches just off the plate, Three of the first five hitters drew walks, and the White Sox pushed across two runs in the first. And later, when Guthrie's pitches caught more of the plate, Chicago used four hits in the third to chase Guthrie after just 2 1/3 innings. It was 4-0 at that point, and Dayan Viciedo greeted reliever Bruce Chen with a three-run homer that proved to be the equivalent of an early knockout.
Maybe it was the law of averages. Maybe it was being overdue. But the White Sox finally solved the Guthrie riddle in impressive fashion.
"He has tremendous stuff and we did a good job of making him throw it over the plate," first baseman Adam Dunn said. "He threw some good pitches and we were able to lay off them. When you are able to lay off some pitchers' pitches, you have a chance for a good result."
The White Sox (30-41) dictated the terms as soon as Alejandro De Aza opened the game by drawing a walk. Hot-hitting Alexei Ramirez doubled to put men at second and third. Alex Rios was the exception to the first-inning rule when he went after the first pitch and bounced into a fielder's choice at the plate. But the plate discipline resumed immediately as Dunn and Paul Konerko walked to force in a run. Conor Gillaspie's sacrifice fly made it 2-0.
"It was a good first inning and the approach all night was good," White Sox manager Robin Ventura said. "I don't think [Guthrie] was as sharp as he had been before against us. But you have to take advantage of it. Dunn and Konerko had good at-bats in the first inning and you push a couple across."
Santiago, albeit with a smaller sample size, had been tough on the Royals just as Guthrie had been tough on the White Sox. The diminutive left-hander entered the game with 11 1/3 scoreless innings against Kansas City. Santiago never let the Royals come up for air. His only glitch was surrendering a solo homer to Eric Hosmer in the sixth after Chicago had built a 9-0 lead.
Besides allowing just three hits, Santiago walked only one. He needed just 106 pitches to get through eight innings.
"I wanted to see how many strikes I could throw," Santiago said. "We got the early lead and kept adding to it. You want to go out there every inning and show your team you can get them back in the dugout so they can keep scoring."
The White Sox welcomed the blowout since 17 of their previous 19 games had been decided by three runs or fewer.
"We've been battling in one-, two- and three-run games," Santiago said. "Putting up crooked numbers in a couple of innings was nice."
The White Sox broke the game wide open in the third, and Viciedo provided the exclamation point with his three-run homer to left-center. With Guthrie struggling, Kansas City manager Ned Yost brought in the lefty Chen to face Viciedo, and the outfielder delivered the first three-run homer at Kauffman Stadium since May 10.
"It has been a long time since we got an easy win like that, so it feels really good," Viciedo said through a translator. "I was looking for something middle-away and was lucky enough to get one and put a good swing on it."
Royals starters had gone at least six innings in 52 of the club's first 70 games. But the White Sox made sure Guthrie was destined for an early shower in the series opener.
"We got beat up pretty good tonight," Yost said. "It was just one of those nights when Jeremy didn't have his good stuff, didn't have his command."
The White Sox will take it and not look back.
"You can see the spirits lifted up a little bit," Dunn said. "It's amazing what can happen with just one game."
Robert Falkoff is a contributor to MLB.com. This story was not subject to the approval of Major League Baseball or its clubs.