Utley returns to Phillies lineup after month on DL
Utley returns to Phillies lineup after month on DL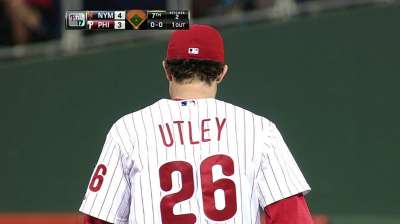 PHILADELPHIA -- For the first time in a month, Chase Utley's name was penciled in the Phillies' batting order.
The star second baseman, who had been on the disabled list since May 23 with a strained right oblique, batted second and went 0-for-5 in the Phillies' 4-3 loss to the Mets in Friday's opener at Citizens Bank Park.
"I had some opportunities to drive in some runs, I didn't do that," Utley said. "But overall picture, I feel good, I feel like I can contribute."
Utley had spent the last two days rehabbing with Double-A Reading, and though he went hitless in nine at-bats, manager Charlie Manuel said he thinks Utley will be just fine.
"I'm very happy to have him back," Manuel said.
Utley -- who is hitting .264 with seven homers and 25 RBIs this season -- had not played since May 20 and missed 28 games. The Phillies went 14-14 with the five-time All-Star sidelined.
The Phillies lacked production from Utley's replacements when he was out as his fill-ins combined to hit a mere .179 (21-for-117).
Utley also dealt with ailments last season and didn't make his season debut until June 27. But he said he's playing with "no reservations" after his first game in Double-A. Utility infielder Michael Martinez, who appeared in just six games, was sent down to Triple-A Lehigh Valley to make room for Utley on the roster.
With the return of Utley, Jimmy Rollins moved back to the leadoff spot of the order, while Michael Young batted third and Ben Revere, who has been producing from the top spot in the order recently, slid down to the No. 7 hole.
"Michael Young in the last few games has hit some doubles, and things like that," Manuel said. "He has a quicker bat, and we definitely couldn't line up those left-handed hitters in a row. I was looking for the best balance possible we could have, and I thought being in the seventh hole would get [Revere] free to run."
Stephen Pianovich is an associate reporter for MLB.com. This story was not subject to the approval of Major League Baseball or its clubs.