Edgin in groove out of 'pen since being recalled
Edgin in groove out of 'pen since being recalled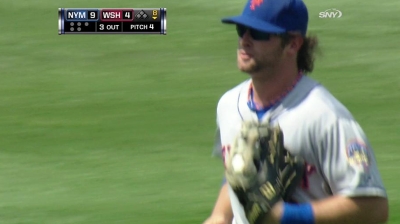 PHILADELPHIA -- When reliever Josh Edgin fought back from a 3-0 count on Jason Heyward to induce a groundout and end the last Braves threat in the Mets' 4-3 victory Thursday night, it extended his scoreless-appearances streak to five since his recall from Triple-A Las Vegas on June 10.
Left-handed-hitters are 1-for-9 against Edgin in that time, during which he has resumed consistently pounding the strike zone.
"Better believe it," said manager Terry Collins. "That's one of the reasons we sent him down to begin with.
"He didn't have a great spring, but there was a lot going on. His wife was due at the time, and he was on the edge of his chair waiting for the phone to ring, and he was trying to work on his pitches.
Edgin has allowed four hits over four scoreless innings since returning to the big league club.
"He got away from his strength, which is throwing strikes," Collins said. "What you saw last night, 94-95 [mph] charging after a guy. I understand you want another pitch, but you can't lose you strength. Last night it was back. "
Jay Greenberg is a contributor to MLB.com. This story was not subject to the approval of Major League Baseball or its clubs.