Frandsen to see decrease in playing time
Frandsen to see decrease in playing time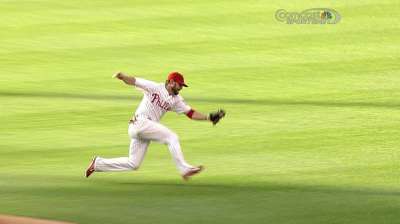 PHIALDELPHIA -- The return of Chase Utley will equate to less playing time for Kevin Frandsen, but that is not going to change the infielder's approach when he comes to the ballpark.
Frandsen, a utility infielder who has played in 43 games this season, was the Phillies' starting second baseman six times in the past week. He entered Friday hitting .274 this season and is batting .375 with a .464 on-base percentage in June.
The 31-year-old has started just seven times, but he said he is working every day to pounce on an opportunity whenever it arises.
"I know I'm good enough here, I can play at this level at a great level," said Frandsen, who has played in 326 Major League games in his career. "That's what I believe in myself, and I prepare myself for that."
With Utley rejoining the Phillies on Friday after missing a month with a strained oblique, manager Charlie Manuel acknowledged he will not use Frandsen as much, but he added Frandsen has "definitely been the Phillies' best hitter off the bench."
In 2012, Frandsen hit .338 over 55 games after the Phillies called him up from Triple-A in July.
Stephen Pianovich is an associate reporter for MLB.com. This story was not subject to the approval of Major League Baseball or its clubs.