Mattheus about four weeks away from return
Mattheus about four weeks away from return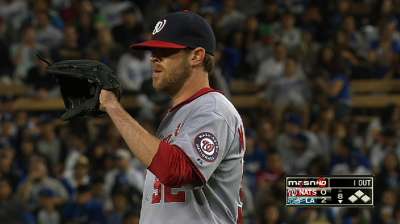 WASHINGTON -- Although the broken bone in his right hand has healed, reliever Ryan Mattheus said that he is still about four weeks away from returning to the Nationals' bullpen.
Mattheus played catch again on Friday after throwing for the first time since the injury on Thursday afternoon. While he has yet to throw at his regular velocity, Mattheus said that the hand feels fine and hasn't given him any issues so far.
"I've been pretty surprised with how it's reacted," he said. "It hasn't gotten any added stiffness, any added soreness or anything like that with the two light days of throwing. So, I've been pretty happy with it."
Mattheus broke the hand by punching his locker after a rough outing on May 19. In the month since, he has worked with the Nationals' training staff to maintain his arm strength through manual-resistance exercises. He also recently practiced squeezing his hand in a bucket of rice to improve his grip.
Mattheus said that he will continue to throw harder and from farther distances before returning to a mound, first in bullpen sessions and then in a Minor League rehab assignment. If all goes well, he thinks the process will take four weeks.
"I don't know exactly, they haven't told me exactly," Mattheus said. "I hope it'll be a little sooner, that's just my own timetable, but obviously I want to push it more than they really can. That's something the trainers and the doctors are going to have the final say in."
Mattheus called the injury "one of the most frustrating things I've dealt with" as a baseball player. He is eager to put the incident behind him.
"I've been hurt before, but that kind of stuff was uncontrollable," Mattheus said. "This was something that was self-inflicted, a stupid decision. So it's been tough to swallow."
Tom Schad is an associate reporter for MLB.com Follow him on Twitter @Tom_Schad. Andrew Simon is a reporter for MLB.com. Follow him on Twitter @HitTheCutoff. This story was not subject to the approval of Major League Baseball or its clubs.