Harper set to begin rehab assignment Tuesday
Harper set to begin rehab assignment Tuesday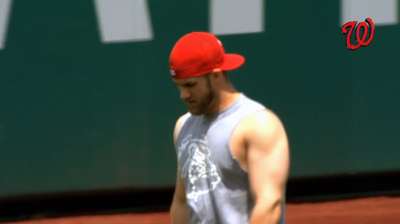 WASHINGTON -- Nationals manager Davey Johnson said Friday that outfielder Bryce Harper is on track to make a rehab appearance at Class A Potomac on Tuesday.
Harper has been on the disabled list since June 1 with bursitis in his left knee, but he has not had any additional swelling in the knee since resuming baseball activities in the past couple of days, according to Johnson. Before Friday night's game, the 20-year-old took some swings in the batting cage, both off a tee and against live pitches. He also did some light work in the outfield.
"[Harper] is doing fine," Johnson said. "I was in the workout room with him, I saw him doing contortions and everything else. … He'll probably work with us through Monday, [doing] baseball stuff, before he'll be ready to go out."
Harper has said that he wanted to make a rehab appearance before returning to the Nationals' lineup. When asked about how much time Harper would need to spend in the Minor Leagues, Johnson said, "Knowing Harp, I don't think he's going to need much."
Potomac's current homestand ends on Thursday.
When Harper returns, he will wear a protective knee pad to prevent any further damage to the knee.
"It's not so much timing as it is just seeing how he feels after [games], how the knee reacts to being out there for nine innings," Johnson said.
Tom Schad is an associate reporter for MLB.com Follow him on Twitter @Tom_Schad. Andrew Simon is a reporter for MLB.com. Follow him on Twitter @HitTheCutoff. This story was not subject to the approval of Major League Baseball or its clubs.