Davis hits 27th homer, but O's fall on walk-off
Davis hits 27th homer, but O's fall on walk-off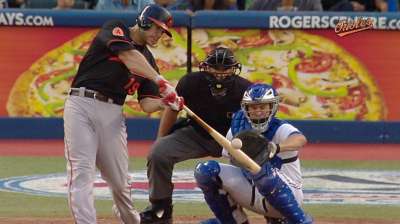 TORONTO -- A clash between two division rivals and a pair of the hottest teams in the American League did not disappoint on Friday.
But for the Orioles, they came out on the wrong end of a contest that saw six balls leave the yard and the Blue Jays celebrating their ninth consecutive victory in style.
Pedro Strop surrendered a walk-off single to Rajai Davis in the bottom of the ninth and the Orioles fell, 7-6, in the first of a three-game set in front 35,472 at Rogers Centre.
"That is kind of the American League ... especially in the American League East, that's just part of the equation. That's nothing new," Orioles manager Buck Showalter, who was ejected in the second inning, said about the long balls. "Mistakes go places other than out to the grass -- sometimes they go where you can't catch them."
One of those mistakes came back to bite the Orioles after they built their first lead in the sixth and took a 6-4 lead into the seventh inning.
Baltimore appeared to be in a good spot with two outs in the frame and a favorable matchup -- hard-throwing righty Tommy Hunter up against the light-hitting Munenori Kawasaki. But Kawasaki, an unlikely hero, came through with a two-run homer, the first of his career, to tie the game at 6-6 and send the Toronto crowd into a frenzy.
Hunter threw him a 1-1 cutter that Kawasaki turned on to change the complexion of the game.
"He got it. Tip your cap. I'm going to throw it again tomorrow," Hunter said. "We're not down, that's definitely not the way we roll."
The big blow, however, came against Strop, who hasn't been anything like the version Baltimore was treated to in 2012.
With two on and two out in the ninth, the Orioles turned to Strop after lefty Brian Matusz recorded the first two outs. But Davis made them pay for that decision, ripping a 1-1 pitch into left field for the win, which marked the second consecutive time the Blue Jays have beaten the Orioles on a walk-off hit.
The last time these two teams met, in late May, Toronto managed a series split after winning on a Kawasaki walk-off double.
"It felt like a different atmosphere out there," Davis said. "The fans were into it. Playing a good team in Baltimore, so it was definitely exciting to go out there and play."
Strop, who was one of Baltimore's bullpen anchors in 2012, sports a 6.87 ERA and 1.67 WHIP over 27 appearances this season.
The Orioles fought for six innings to take a lead, but once they did, it was only short-lived, as the bullpen couldn't hold it.
Baltimore hit three homers -- the 14th time the club has hit at least three in a game this season -- off Blue Jays starter R.A. Dickey to spoil what was looking like a strong outing from the knuckleballer.
Dickey took a 3-1 lead into the sixth before the Orioles got to him. Adam Jones, who extended his hitting streak against the Blue Jays to 17 games, smacked an RBI single to cut the deficit to 3-2 before slugger Chris Davis stepped to the plate and gave the Orioles their first lead.
Davis, who had struck out his first two times against Dickey, drilled an opposite-field, three-run homer to put Baltimore in front, 5-3. It was Davis' Major League-leading 27th homer of the season.
"The first couple times I faced him, I think he was trying to get ahead. I think I swung at some balls out of the zone," said Davis, whose 12 homers against Toronto are more than any player since the start of the 2012 season.
"It's tough when you're facing a guy that throws a knuckleball, because sometimes it starts in the zone and then leaves. But it was one of those things, a couple guys on and I was looking for a pitch out over the plate to drive and didn't try to do too much."
Ryan Flaherty tacked on a run the following inning, crushing a solo homer, his third long ball of the year, to give Baltimore a 6-4 lead. Dickey lasted one more batter before exiting with one on and none out in the seventh.
The knuckleballer, who has failed to beat the Orioles in three starts, appeared to be changing his fortunes until the O's got to him late. Other than a J.J. Hardy solo homer in the second inning, Dickey was strong over the first five innings. Dickey lasted six innings plus two batters, allowing six runs on seven hits while walking two and striking out five.
He sports a 7.72 ERA against the Orioles over 18 2/3 innings this season.
"I think it's just seeing him on a consistent basis," Davis said. "[But] he had it working for him for a little bit."
Dickey was matched up against Jason Hammel, who pitched well in between two homers he surrendered on the night. After allowing a two-run shot to Adam Lind in the first inning, Hammel retired 10 straight, and other than an Edwin Encarnacion solo shot in the sixth, he was in control for much of the contest.
The right-hander, who hadn't pitched for nine days because of a stomach virus, allowed four runs over six innings, while walking one and striking out seven. He topped out at 96 mph and felt his ability to mix speeds allowed him to keep Toronto's hitters in check.
"Stuff wise, comparable to the best all year. I felt great," said Hammel, who has a 5.30 ERA over 15 starts.
Baltimore's three homers extended its season total to 101, best in the Majors. The Orioles are 19-11 in their last 30 games.
Chris Toman is a contributor to MLB.com. This story was not subject to the approval of Major League Baseball or its clubs.