Lyons' early exit mars fast start for Cards, who fall late
Lyons' early exit mars fast start for Cards, who fall late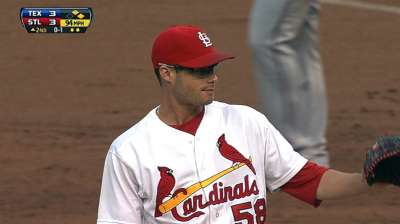 ST. LOUIS -- Cardinals starter Tyler Lyons' place in the rotation just got shakier.
In need of a strong performance to solidify his status on the big league staff, the rookie left-hander required 46 pitches to get his first and only five outs as his night ended early after just 1 2/3 innings.
Joe Kelly was effective in a long relief appearance, but Rangers outfielder Nelson Cruz drove home two decisive runs against Trevor Rosenthal in the ninth to hand the Cardinals a 6-4 loss in the series opener Friday night. The game was played in front of 45,228 fans, the ninth sellout at Busch Stadium this season.
The Cardinals got off to a quick start with three doubles and a walk in a three-run first inning, with Carlos Beltran and Allen Craig driving the runs home, but Lyons immediately erased the lead with his second-inning struggles.
Lyons walked one but struck out the third batter for a scoreless first inning before surrendering back-to-back doubles to A.J. Pierzynski and Mitch Moreland, plating a run, to open the second. He settled down to retire the next two batters, needing just one out to contain the Rangers' rally. Lyons instead walked starter Derek Holland -- who was 0-for-10 with five strikeouts and a walk prior to that at-bat -- and Ian Kinsler before giving up a two-run single to Elvis Andrus before he was pulled in favor of Kelly.
"It just kind of snowballed on him a little bit," said manager Mike Matheny. "He had trouble getting it in the zone and just seemed to keep going in a bad direction, and then when he brought it back in, he was already in favorable counts for the hitters, [who] then took pretty good swings. It was just a tough day."
Kelly allowed one of Lyons' runners to reach home on a run-scoring single in the four-run second, but stalled the Rangers' offense for five innings. Kelly tossed 77 pitches, second only to the 80 he threw in a spot start June 5. The right-hander scattered five hits and struck out three.
Kelly's extended relief appearance was the second longest relief outing of the season by a National League pitcher, trailing Arizona's Josh Collmenter, who went six innings Wednesday.
"We're a team. That's what the bullpen is there for, to pick up starters," Kelly said. "They pick us up, we pick them up. ... That's our job, that's what we get paid to do."
After struggling in four straight starts -- surrendering four or more earned runs in each -- it's possible Lyons will lose his rotation spot. With two off-days in the next six days, the Cardinals will have plenty of time to make a decision.
"It's not my call," Lyons said. "I just can get ready and prepare like I would no matter how the game went tonight, and we'll see where it goes from there."
After impressive showings in both his June 5 spot start and Friday's relief, Kelly may be in line for a larger role. If a spot in the rotation were to open up, the 25-year-old righty said he won't have any problems stretching out his work load again.
"If it arises, I'll take the ball," Kelly said. "I'll be ready to give this team a chance to win and try to do my best out there."
With Kelly unavailable after pitching five innings Friday, Matheny said the Cardinals could potentially make a roster move Saturday to add a fresh arm to the bullpen.
After allowing the three-run first and one run in the second, when Pete Kozma reached home on Pierzynski's passed ball, Holland brought the Cardinals' bats to a halt for his final five innings. Holland was tagged with four earned runs on four hits and three walks. He struck out four, including all three Cardinals batters in the seventh.
St. Louis appeared poised to shatter the 4-4 tie in the eighth. With two outs, Craig reached on a base hit, and Yadier Molina, who was 0-for-3 as he approached the plate, knocked a double into left field. Rangers reliever Neal Cotts intentionally walked David Freese, loading the bases for Jon Jay. But Jay grounded out, paving the way for the Rangers' ninth-inning victory.
In the ninth, Rosenthal allowed Kinsler to reach on a line-drive single, and Kinsler advanced to third when Rosenthal committed a throwing error on Andrus' sacrifice bunt.
"I was just trying to get it to [second baseman Matt Carpenter] and got a little bit more on the baseline than I would have liked," Rosenthal said of the error. "And it was a tough play for Carp with the runner getting there at the same time as the ball. Unfortunately wasn't able to hold on to it."
Cruz then knocked his single into center, allowing Kinsler and Andrus to reach home safely for the go-ahead runs.
The Cardinals' comeback hopes remained alive two outs into the ninth, when Carpenter was walked by Rangers closer Joe Nathan and then advanced to second on defensive indifference. Beltran stepped to the plate and belted a line drive straight to the left-field warning track, but outfielder David Murphy was able to chase it down for the game-ending out.
"I didn't think it was gone, but I thought I might be facing another hitter," Nathan said. "I didn't think we had a tied game, but I thought it was about to get interesting and the crowd would be really into it. A great job by Murph. It was like a quarterback throwing a long pass and wondering if the receiver was going to get to it. It was fun to watch."
Chad Thornburg is an associate reporter for MLB.com. This story was not subject to the approval of Major League Baseball or its clubs.