Rox drop fifth straight despite Chatwood's gem
Rox drop fifth straight despite Chatwood's gem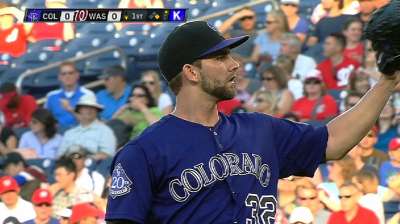 WASHINGTON -- The games of the Rockies' frustration-paved road trip have taken two distinct patterns. When they pitch, they don't hit, and when they don't pitch, they don't hit.
Tyler Chatwood's six strong innings went unrewarded, and they officially were wasted when Ian Desmond homered off Manuel Corpas in the seventh inning of the Nationals' 2-1 victory on Friday night at Nationals Park in front of 34,917.
The loss dropped the Rockies to 37-38 -- below .500 for the first time since their Opening Day loss at Milwaukee. The Rockies also have lost all five games of a nine-game road trip, and five games is their longest losing streak of the season. The only positive streak was extended by Michael Cuddyer, who not only extended his hitting streak to 19 games, but reached in his 38th straight to tie Matt Holliday's club record (July 22-Sept. 2, 2007).
"It's frustrating as a team, because you don't want to lose this many games in a row, but we've been in a lot of games and it's just a matter of time until we break through," Chatwood said.
Friday's loss was similar to Tuesday's at Toronto, when Jorge De La Rosa gave up one hit and no runs in six innings, but the offense was shut down by Josh Johnson and a strong Blue Jays bullpen in a 2-0 loss. Chatwood searched for command early, but found it and held it for most of his 97 pitches. Just one of the four hits off Chatwood was solid.
"I was a little amped up going out there early, getting the ball up a little bit, then I kind of got tired," said Chatwood, who still hasn't given up a home run in eight starts covering 44 2/3 innings -- not bad for someone whose home games are at Coors Field. "Once you get down, it kind of settles you down a bit."
The Rockies' order was a tall one, facing Stephen Strasburg, who looked healthy and effective in his second start after a stint on the disabled list with a lat strain. Strasburg gave up one run on five hits and struck out nine in seven innings.
Strasburg had two strikeouts apiece of leadoff man Dexter Fowler, who returned to the starting lineup for the first time in three games after nursing a bruised right ring finger; left fielder Carlos Gonzalez, who struck out three times and is 3-for-21 on the road trip; and Wilin Rosario, who had hit as well as anyone in the previous games on this trip, but was uncomfortable against the Nats' flamethrower.
"It's a big-time arm with big velocity and a really good breaking ball, good changeup," Rockies manager Walt Weiss said. "It's a tough at-bat, regardless who you are."
For the trip, the Rockies -- a strong offense, even though it is missing shortstop Troy Tulowitzki due to a broken rib -- have scored a total of seven runs, no more than three in a game. The saving grace for the Rockies is they're in a tight National League West, where every team has gone through something similar and no one looks to be able to open a sizeable lead.
"That's the way this division is going to go, it's going to go down to the wire," Cuddyer said. "That's why you've got to continue to play each night and can't worry about, 'We've got to win this whole weekend,' or, 'We've got to win the rest of this road trip.' We've got to figure out how to win on Saturday, and after that figure out how to win Sunday, and so forth and so on."
The Rockies scratched out a 1-0 lead on DJ LeMahieu's two-out RBI single in the third. It was almost enough for Chatwood.
Ryan Zimmerman's game-tying RBI double in the sixth sliced into the right-field corner, and any chance at an out at home plate was lost when right fielder Cuddyer's throw sailed over LeMahieu, who might have had a chance on a relay throw.
"The kid, Chatwood, did a great job, he pitched a heck of a ballgame," Desmond said. "Huge knock by 'Zim' to drive in the tying run, Strasburg pitched great, just a fun game."
The Rockies haven't allowed their starters to throw more than 100 pitches often this year. With Josh Rutledge -- who had two hits after going 1-for-22 in his previous six games since his callup from Triple-A Colorado Springs -- at second with two out in the bottom of the sixth, Weiss pinch-hit Tyler Colvin for Chatwood. But Zimmerman made an over-the-shoulder catch in foul ground to drop Colvin to 0-for-15 on the trip and end the threat.
"No idea of letting [Chatwood] go out [for the seventh] -- his spot came up, we were in a tie game," Weiss said.
The 1-1 tie disappeared when Corpas (0-2) left a 2-0, 89-mph sinker over the heart of the plate that Desmond swatted to right-center for his 12th homer of the season and second in as many games against the Rockies. It was the only hit off Corpas in 1 2/3 innings.
"I didn't want to walk him," Corpas said. "I don't want to walk anybody. He's a professional, I'm a professional. He's trying to do his best, I'm trying to do my best. That's how it works."
Drew Storen struck out Gonzalez and Cuddyer with a runner at second to end the eighth, and Rafael Soriano threw a scoreless ninth for his 19th save.
Thomas Harding is a reporter for MLB.com. Read his blog, Hardball in the Rockies, and follow him on Twitter @harding_at_mlb. This story was not subject to the approval of Major League Baseball or its clubs.