Sveum wants consistent approach from offense
Sveum wants consistent approach from offense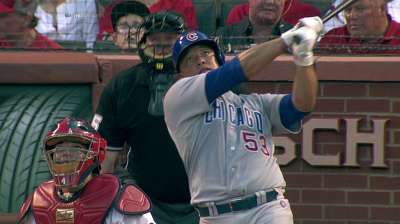 CHICAGO -- The Cubs' offense has sputtered in June, and they totaled five hits on Thursday in a 6-1 loss to the Cardinals. One of the things that bothered manager Dale Sveum was that his team took 14 first-pitch strikes.
"We got a lot of fastballs to hit [Thursday] and didn't do anything with them," Sveum said Friday.
The problem is finding a balance between being aggressive and being selective.
"You don't want to be in that mode, the wishy-washy thoughts -- 'Should I swing at the first pitch? Should I not swing at the first pitch? What's a good time to do it?'" Sveum said. "Basically, if you can drive the ball out of the ballpark, take a good swing at it. That's what you want to do.
"If it's a pitcher's pitch -- if he paints down and away, if he paints on the inside black; OK, we take those pitches. You don't want to have different thoughts all the time, and I think that's one thing that gets in the way of hitting, is hitters get different thoughts all the time. 'This at-bat, I'm going to do this. This at-bat, I'm going to do that. The third at-bat, I'm going to do this.' Instead of just being the same guy all the time.
"You get men in scoring position, be ready to hit," he said. "Averages go down when you're behind in the count, it's a simple fact. It's happened for 100 years in the game."
The Cubs are batting .205 after an 0-1 count entering Friday. In the four-game series against the Cardinals, the Cubs batted .161 and scored eight runs, half of them in the second game.
Are hitters taking those first pitches because of the emphasis placed on improving the team's on-base percentage?
"Obviously, right now, we've got some guys struggling, so that takes care of itself, and guys have a lot of things going on in their minds," Sveum said of the Cubs, who are batting .203 this month. "What it comes down to is a failure factor. [Some players are] worried about failing instead of worrying about succeeding, and you can't do anything in any walk of life in that mindset."
Carrie Muskat is a reporter for MLB.com. She writes a blog, Muskat Ramblings, and you can follow her on Twitter @CarrieMuskat. This story was not subject to the approval of Major League Baseball or its clubs.