Victorino's four-hit night powers Sox past Tigers
Victorino's four-hit night powers Sox past Tigers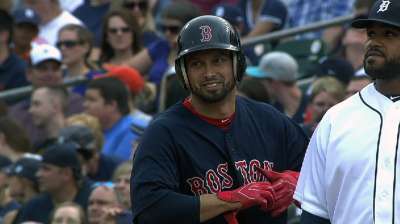 DETROIT -- Thanks to a relentless offense that leads the Majors in runs scored, Jon Lester's latest subpar performance felt more like a concern than a crisis for the Red Sox in Friday night's 10-6 victory over the Tigers at Comerica Park.
The Boston bats got a monster game from Shane Victorino, who went 4-for-5 and tied a career high with five RBIs.
Jacoby Ellsbury, Dustin Pedroia, Mike Napoli, Stephen Drew and the ridiculously-hot Jose Iglesias added multihit games as the Sox washed away the sour taste of a walk-off defeat on Thursday.
"Much like we've talked about many times over, this group does an outstanding job of forgetting yesterday and going out and focusing on what we have to do today," said manager John Farrell. "We had two drastically different style of starters that we're going against last night and today. It's a smart group, but yet it's one that's very professional, and they don't let yesterday carry into today."
With all that run support at his back, Lester got the win, running his record to 7-4.
It wasn't easy, however. The lefty gave up nine hits and five runs over 5 2/3 innings, walking three and striking out three.
What does Lester take out of a performance like this one?
"A win," said Lester. "It's been a while. You just have to look at that positive of it. We won the ballgame. The offense did a great job of scoring some runs. That's the way you've got to look at it right now."
At 45-31, the Red Sox lead the Orioles by two games in the American League East. Coming off a tough one Thursday, this win felt particularly important, especially when you consider the Tigers are throwing Max Scherzer (10-0) and Justin Verlander in the final two games of the series.
"There's definitely resiliency," said Victorino. "This team never gives up. We let those kind of things just fall by the wayside, that's what makes this team so great. This team reminds me of some of the years in Philly when we were successful deep into the playoffs and winning the World Series. We bounce back from losses like that."
This was the sixth time in Lester's last seven starts he's surrendered four earned runs or more. Even more concerning is the fact Lester has given up five runs or more in his last three games, not pitching six innings in any of those starts.
"The main thing is a win -- a win for him, a win for us," said Farrell. "He's still a work in progress. I thought there were a couple of innings inside the five-plus innings of work that were much more crisp and sharp, and yet the first-pitch changeup to [Miguel] Cabrera for the three-run homer, obviously he's capable of doing that, but the fact that Jon gets a win out of this hopefully allows him to take a breath a little bit and continue to move forward."
The Red Sox got out to a quick lead in the first, as Victorino started his prolific night by belting a solo homer to right.
"I feel good," said Victorino. "It's just a matter of the body feeling good, going out there every night, going out there and staying after it. It's one of those things where when the ball is rolling in the right direction, you try to keep it rolling there."
The Tigers answered in the second on an RBI single to right by No. 9 hitter Brayan Pena.
Detroit starter Doug Fister never did get into a rhythm in this one. Ellsbury and Victorino struck back-to-back, one-out singles in the third. Pedroia got a run home on a fielder's-choice grounder to give Boston a 2-1 lead.
The Boston bats stayed on Fister. In fact, they delivered him a knockout punch in the fourth. Jarrod Saltalamacchia, Drew and Iglesias had consecutive one-out singles. Ellsbury (two-run double) and Victorino (two-run single) gave the Sox what seemed to be a comfortable edge at 6-1.
"It was pretty simple to sum it up: I think [Fister] wasn't at his best," said Tigers manager Jim Leyland. "However, he also didn't pitch into very good luck. If they hit it hard, they got a hit. And if they didn't hit it hard, they got a hit. It was one of those nights, and I'm not making excuses for him. Like I said, he wasn't at his sharpest, but it wasn't as bad as the numbers, either."
For Boston, all that run support wound up being fortuitous. Lester needed all of it.
The Tigers came roaring back in the fifth. Andy Dirks led off with a homer. With two on and one out, Cabrera walloped a three-run homer to left-center, and Boston's lead was suddenly down to 6-5.
"I probably throw the best changeup I've ever thrown in my life to a guy that's just on a whole another playing field," said Lester. "I wish he'd quit and go to a different league -- make a league especially for him. I thought at first it was off the end and apparently not. Really, other than that, I felt like I made some good pitches. That's just the way it's going for me right now."
In this one, however, Detroit simply couldn't stop Boston often enough. Iglesias went to the opposite field in right for a triple in the sixth. Victorino came through yet again with an RBI single to left, making it a two-run game.
After Leyland issued an intentional walk to Ellsbury in the eighth, Victorino hit a roller to short that drove home a run. Jhonny Peralta's throw home was not in time to get Saltalamacchia. A wild pitch by Al Alburquerque stretched Boston's edge to 9-5.
"Anytime you're going to get not only production at the bottom third but the number of good swings we put on balls and the number of hits we got throughout the lineup, it's going to be a good offensive night," said Farrell. "Against that team, obviously, you need every run you can get, given what they can do -- and do very quickly. It was a much-needed win on our part."
Ian Browne is a reporter for MLB.com. Read his blog, Brownie Points, and follow him on Twitter @IanMBrowne. This story was not subject to the approval of Major League Baseball or its clubs.