Fister's early struggles vs. Red Sox sinks Tigers
Fister's early struggles vs. Red Sox sinks Tigers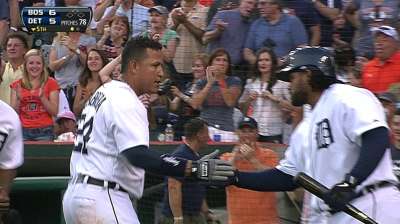 DETROIT -- This is what games are like for teams that don't have dominant starting pitching, in case anyone forgot.
After all the fretting and sweating over Detroit's bullpen, these last few days have provided a reminder of what other teams go through this time of year. On Friday, Doug Fister's fourth-inning exit gave the Tigers' retooled bullpen a little more use than they wanted. It never did get a lead to protect, only a comeback that fell short in an eventual 10-6 loss to the Red Sox at Comerica Park.
"Everybody wants to pass out bouquets," manager Jim Leyland said. "If you listen to me, I don't pass out any bouquets. I mean, you can't stop people from talking about it. I'm very happy, I'm thrilled with my starting rotation, but it's just June. Let's just see what happens and let's play."
That doesn't mean the Tigers are headed for five-reliever nights and pitchers covering three apiece. Their starters are too good for that, as long as they're healthy. But for this turn through the vaunted Detroit rotation, at least, they've found themselves in a funk.
The rotation that put up 20 quality starts in 22 games entering Tuesday now has gone four games without one. Detroit's starters have seen the sixth inning just once in the last four games, and Rick Porcello had already given up six runs by the time he got there on Wednesday.
Fister came into Friday with a five consecutive quality starts, the last three of which he carried into the eighth inning. But after run support seemed to be his curse, his downfall Friday was the ground ball.
The Red Sox churned out four of them in a row for hits in a four-run fourth inning. Add in a line-drive single and a blooper into short right, and his greatest damage in a string of six consecutive hits was a ground ball down the right-field line that went for a two-run double.
By the time the onslaught against him was over, the Red Sox had put up six runs and 11 hits on him for the second consecutive meeting, having done the same to him on Memorial Day last year at Fenway Park.
"It was pretty simple to sum it up: I think he wasn't at his best. However, he also didn't pitch into very good luck," Leyland said. "If they hit it hard, they got a hit. And if they didn't hit it hard, they got a hit. It was one of those nights, and I'm not making excuses for him. Like I said, he wasn't at his sharpest, but it wasn't as bad as the numbers, either."
Fister (6-5) wasn't having any of that.
"Bottom line is I didn't do my job tonight," he said. "I didn't make the pitches, didn't execute. They came out, they're a good lineup, they put the ball in play, did what they needed to do, put up runs."
It marked Fister's third loss in four June starts only because of the Tigers' struggles scoring runs for him earlier this month, which made Miguel Cabrera's 20th home run of the season Friday night bittersweet. With Cabrera's three-run blast off Red Sox starter Jon Lester (7-4), Fister had more run support (five runs) than he had in a four-game stretch combined (four).
In the process, Cabrera reached the 20-homer mark 72 games into the season, sooner than in any other season in his career. The only other year he reached 20 homers by the end of June was 2010. He's the earliest Tiger to 20 homers since another slugging third baseman, Dean Palmer, hit 20 Detroit's first 70 games in 1999.
Cabrera followed his homer with a seventh-inning line drive hit so hard to the opposite field that he had to hustle to beat right fielder Shane Victorino's throw to first. A line drive to left gave Cabrera his fifth four-hit game of the year.
Victorino, too, had a home run and a four-hit game. His three singles after his first-inning solo homer, however, were all ground balls -- one to right, one to right-center, one to left. It was a four-hit game that still didn't deter the Tigers from intentionally walking Jacoby Ellsbury to load the bases for Victorino in the eighth inning, trying to keep the deficit at 7-5.
Al Alburquerque, making his return to the Tigers' bullpen after a month-long exile at Triple-A Toledo to work on his command, got the ground ball he wanted, but they couldn't get the out at home plate. Replays suggested Jarrod Saltalamacchia might have slid over the plate with his lead foot, but home-plate umpire Mike DiMuro called him safe.
A wild pitch and another add-on run essentially put it out of reach.
"We were just taking our shot to try to get out of it, and we almost got it," Leyland said. "We just got the in-between hop or we would've had the guy at home. If you got the long hop, you might've been able to turn the double play. It just wasn't our pitchers' night."
For a rare occasion, he meant that for the starter as well.
Jason Beck is a reporter for MLB.com. Read Beck's Blog and follow him on Twitter @beckjason. This story was not subject to the approval of Major League Baseball or its clubs.