Players have many methods of busting out of a slump
Players have many methods of busting out of a slump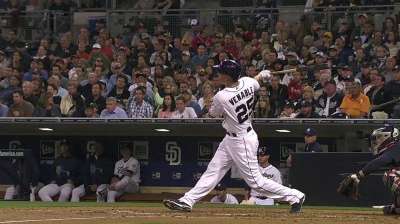 Any player who has spent significant time in the big leagues has dealt with the horrors of a slump.
There's no getting around it. Sooner or later, the balls stop falling in or that one cog in the swing just isn't right, throwing off the entire process. Derek Jeter was 0-for-32 during a stretch in the 2004 season. Just last April, Albert Pujols went 0-for-21.
The question isn't "if," it's "when." And when that "when" comes, the question becomes just how, exactly, to get out of it.
"It's different for everybody, because it's so personal," said Yankees first baseman Lyle Overbay. "For everybody, there's different approaches, there's different tasks."
Padres outfielder Will Venable agrees that there's no set routine for slump-busting. Some players are sure to take extra swings in the cages, thinking more reps will be the fix. Others believe doing so only forces a player to admit he's in a slump, therefore lumping on more personal pressure.
But Venable is quick to point out that some things don't change from player to player.
"The one thing that I know everyone has to do is have an understanding that good things are around the corner," Venable said. "You just believe that today is the day. If it doesn't happen today, it's going to happen tomorrow."
Yankees manager Joe Girardi, whose club has been in an offensive funk for much of June, noted that it's different for managers. There's really only one way to approach a hitter in the midst of a cold stretch.
"The biggest thing is you encourage them, because you know what they're capable of doing," Girardi said. "Every hitter has been in a slump. If you've played long enough, you've been in a slump. Your hope as a club is that you don't have three, four, five guys slumping at once, but sometimes you do."
During his playing days, Don Mattingly was known to tirelessly take his hacks in the cages whenever he was mired in a drought. Now at the helm of the Dodgers, he's taken a less relentless approach.
With star slugger Matt Kemp in the midst of a dreadful April, Mattingly's message -- perhaps learned from his own time spent with the Yankees being his club's primary run producer -- was to take a breath.
"When things aren't going right, you try to make it happen, and that leads to more trouble," Mattingly said. "... Sometimes it just helps to just sit back and watch a game where you're not having to be out there."
The notion of a "slump" can be a tough one for players to grasp. Many try to avoid the concept all together. Venable said he knows some players will write themselves notes when they're feeling good at the plate to ensure they receive some ultra-personal advice the next time their bat goes cold.
Venable's own scheme is to simply stay comfortable. If it's extra swings he needs to find that comfort zone, that's what he'll do. If it's more film he needs, he'll watch it. If it's simply down time with no change in routine, he won't make any alterations.
"The idea of a slump, even saying it [is hard]. You never want to admit you're in a slump, because you don't want to give it weight," Venable said. "What does that mean? You're in a slump? All it means is you haven't gotten any hits in the last five games or so. It has nothing to do with today."
Then Venable paused for a second, contemplating just how unforgiving the sport of baseball can be. Numbers can't define slumps. They don't accurately depict just how well a player is swinging the bat, because of the randomness of where the ball may land. Hits don't define slumps, because sometimes all it can take is a walk or a well-struck out to end one.
Venable's conclusion was to simply give the ultimate response of a ball player:
"I don't even know what the word 'slump' means," he said, smiling.
AJ Cassavell is a reporter for MLB.com. Follow him on Twitter @ajcassavell. This story was not subject to the approval of Major League Baseball or its clubs.