Pagan carted off field in first rehab game
Pagan carted off field in first rehab game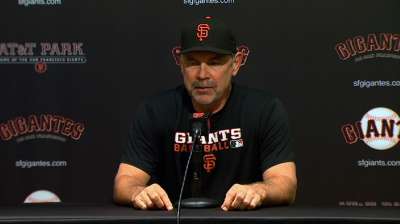 SAN FRANCISCO -- Minutes before the Marlins scored a pair of runs that ultimately handed the Giants a 2-1 loss Thursday, San Francisco suffered what could be an even bigger one more than 80 miles away from AT&T Park.
Outfielder Angel Pagan, who has been absent from the team's lineup since May 25 with a strained left hamstring, had a setback during the first game of his rehab assignment with Class A San Jose at Stockton.
Pagan was unable to run out a grounder to second base in the ninth inning and had to limp to first base before collapsing to the ground. A cart took Pagan off the field.
"He came out of the game and we'll have to check on him tomorrow," Giants manager Bruce Bochy said after Thursday's game. "So it's a setback, but that's all I know."
Giants first baseman Brandon Belt was unaware of what had happened to Pagan following the Giants' loss, but said the setback could potentially be "devastating."
"He's a spark plug for us," Belt said. "You just kind of hope it's not going to be anything too serious. We're thinking about him and hope he's OK."
Pagan was hitting .262 with three home runs and 24 RBIs in 46 games as the team's leadoff hitter prior to the injury.
Chris Haft is a reporter for MLB.com. Andrew Owens is an associate reporter for MLB.com. Follow him on Twitter @OwensAndrew. This story was not subject to the approval of Major League Baseball or its clubs.