Giants can't hold off Marlins in pitching duel
Giants can't hold off Marlins in pitching duel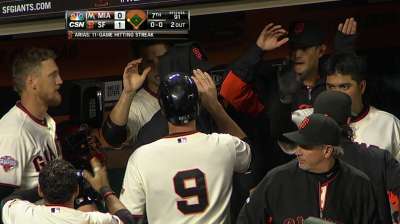 SAN FRANCISCO -- Thursday night actually could have been worse for the Giants.
Had Derek Dietrich's fifth-inning line drive struck Chad Gaudin in a slightly different spot on his throwing arm, the Giants might have lost another starting pitcher to injury, forcing them to replace the replacement for Ryan Vogelsong. As it turned out, Gaudin sustained a bruise but avoided a fracture.
Gaudin's misfortune actually was the evening's most redeeming development for the Giants, who absorbed a 2-1 loss to the Miami Marlins.
Pinch-hitter Marcell Ozuna's two-strike, two-out, two-run single in the eighth inning off Jeremy Affeldt proved to be too much for the Giants, who have lost eight consecutive games to the Marlins at AT&T Park.
Not only did the Giants fall to the Major Leagues' worst team, but they also received bad news from Stockton, where Angel Pagan was carted off the field in the first game of his Minor League injury rehabilitation stint with San Francisco's Class A San Jose affiliate. Pagan, the Giants' center fielder and leadoff hitter, apparently aggravated his strained left hamstring while running to first base.
"It's a setback, but that's all I can give you right now," manager Bruce Bochy said.
Bochy had a little more to say about the setback he witnessed. The Giants were held hitless by Miami right-hander Tom Koehler through 5 1/3 innings until Gregor Blanco singled; they finished with four hits. Koehler (1-5) gained his first Major League victory while surrendering three hits in seven innings.
Asked whether he thought his hitters were overaggressive against a starter they had never faced, Bochy replied, "You know, I'll be honest -- I don't think we were aggressive enough. We were behind the ball a lot. I think [Koehler] has good stuff, but at the same time, it seemed like we were late. If I had my preference, I would want the guys to be aggressive on balls in the strike zone. ... We were a little too passive tonight."
Bochy wasn't the only Giant with this mindset. Pondering what he and his teammates could have done differently, third baseman Nick Noonan said, "Maybe be more aggressive."
The Giants dropped their fourth game out of 31 in which they led after seven innings, which galled Affeldt (1-3). The typically reliable left-hander entered the fray after Sandy Rosario, who pitched 2 2/3 hitless innings of relief after Gaudin departed, walked Justin Ruggiano to open the eighth inning.
Affeldt's first pitch hit Dietrich. Adeiny Hechavarria's sacrifice bunt advanced the runners. Affeldt neared escape by striking out pinch-hitter Jeff Mathis. Ozuna, a rookie making his first career pinch-hit appearance, then laced an 0-2 pitch into right field to send home Ruggiano and Dietrich.
"I didn't make a lot of mistakes that inning," Affeldt said. "If I don't hit the first guy, he doesn't score the winning run and then we don't have that issue."
Affeldt insisted that he located the pitch Ozuna hit, a high, outside fastball, where he wanted. Yet his self-described "rut" continued. In Affeldt's previous outing, he surrendered a two-run homer to San Diego's Jesus Guzman on Tuesday night. Five appearances before that, Arizona's Paul Goldschmidt hit a two-out, three-run, go-ahead homer on June 7.
"Hopefully things will start to go my way a little bit right now," Affeldt said. "I'm the guy that seems to be not doing what I'm supposed to be doing, and it's frustrating."
After the teams combined for three hits in six innings, the Giants opened the scoring in the seventh. They awakened as Brandon Belt doubled with two outs in the seventh inning. Joaquin Arias extended his hitting streak to 11 games with a triple, lining Koehler's 1-1 pitch a few feet to the right of the 421-foot marker in right-center field.
Noonan, the next batter, clobbered a 2-1 changeup into McCovey Cove. But his clout sailed foul. If the Giants wished to torture themselves, they could have dreamed Noonan, who struck out on the next pitch, didn't pull the ball so much.
"I've had more bad luck on balls that I think are going to be home runs," said Noonan, who also reached the front edge of the warning track with a fifth-inning drive. "I knew it was gone, but I didn't quite know if it was going to stay fair."
Chris Haft is a reporter for MLB.com. This story was not subject to the approval of Major League Baseball or its clubs.