Colome to start against Yankees on Saturday
Colome to start against Yankees on Saturday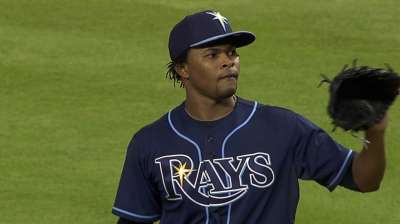 NEW YORK -- Alex Colome will start Saturday's game against the Yankees in New York.
Manager Joe Maddon made the announcement following the Rays' 8-3 win over the Yankees on Thursday night.
The fireballing right-hander, 24, made one start earlier this season, and did well. Recalled to pitch against Miami on May 30, Colome responded by holding the Marlins to one unearned run in 5 2/3 innings to earn his first Major League win.
"He pitched really well down in Miami," Maddon said. "He's a wonderful young man. He's got great stuff. He made his debut in Miami, which is great. So Yankee Stadium is going to be a little bit difficult. However, I think he's going to be OK. He's kind of a cool customer. And I think he will enjoy the moment."
Colome will be filling the spot vacated by Alex Cobb, who suffered a concussion on Saturday when he was hit in the head by a line drive off the bat of Kansas City's Eric Hosmer. Cobb is out indefinitely, so Colome could be in for an extended stay if he does well.
"There's a possibility, yes," Maddon said.
Bill Chastain is a reporter for MLB.com. This story was not subject to the approval of Major League Baseball or its clubs.