Line drive bruises Gaudin's elbow, forces exit
Line drive bruises Gaudin's elbow, forces exit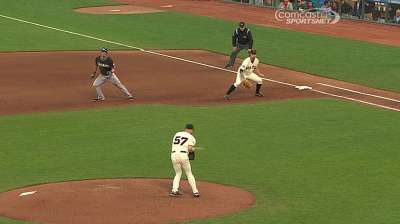 SAN FRANCISCO -- Giants starter Chad Gaudin suffered a bruise near his right elbow when he was struck by a line drive off the bat of the Marlins' Derek Dietrich in the fifth inning Thursday and left the game.
Gaudin picked up the ball after it hit him and threw out Dietrich. Head athletic trainer Dave Groeschner and manager Bruce Bochy came out to the mound and Gaudin threw a few practice pitches to see if he could remain in the game, but he could not.
"It hurt," said Gaudin, who added that X-rays were negative. "It hit me square in the arm and my arm immediately hurt."
He said he will know more Friday, but fully expects to make his next scheduled start Tuesday in Los Angeles.
Gaudin had pitched effectively Thursday, allowing no runs on just two hits in 4 1/3 innings in his fourth start since he was added to the starting rotation after Ryan Vogelsong broke his hand. He said being forced to leave was "more frustrating than disappointing."
"It was a little scary at first," Giants first baseman Brandon Belt said. "It was already turning black and blue [on the mound] after he got hit. It was a little more serious than we thought."
"He's done a really nice job, filling in for Vogelsong," Bochy told reporters before Thursday's game. "It's nice to have a veteran who has experience and who can help out. He's so valuable on the club because he can be a long man, help set up and also start. To have a swing man who's capable of doing that, that's not really something we've had over the last three, four years. We've been fortunate because our guys have stayed healthy and have been consistent at getting us deep in the game."
Reliever Sandy Rosario entered the game to replace Gaudin and threw 2 2/3 innings. His leadoff walk to Justin Ruggiano in the eighth ultimately scored to tie the game, which the Giants lost, 2-1.
Chris Haft is a reporter for MLB.com. Andrew Owens is an associate reporter for MLB.com. Follow him on Twitter @OwensAndrew. This story was not subject to the approval of Major League Baseball or its clubs.