Nolasco trying to block out trade rumors
Nolasco trying to block out trade rumors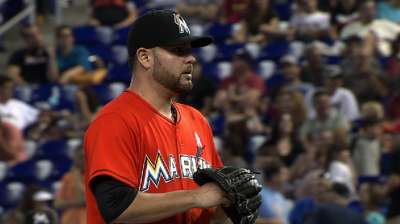 SAN FRANCISCO -- Ricky Nolasco is the Marlins' all-time leader in victories and strikeouts. The 30-year-old, in the final year of his contract, also is well aware that his tenure with the organization could be over by the July 31 non-waiver Trade Deadline.
Nolasco's name already has been raised in trade speculation, with the Orioles, Yankees and Giants being possible landing spots.
A Southern California native, Nolasco would welcome an opportunity to pitch in San Francisco, or in his home state. But he adds that is out of his control, and his immediate focus is his start for Miami on Friday night against the Giants at AT&T Park.
"I know what's going on, talking to my agent and stuff like that," Nolasco told a small group of reporters Thursday. "I'm not in free agency yet, so I don't have a choice. I don't have a say in what goes on right now. I'm just going to block that out. I'm trying to stay levelheaded, and I'm just trying to throw the ball well. Things are out of my control right now, so I'm trying not to think about them."
Nolasco has enjoyed great success pitching at AT&T Park, where he is 4-0 with a 0.87 ERA in four starts.
"I wish I could tell you what it was," the right-hander said. "If I knew what it was, I'd try to do it in every ballpark."
The Marlins acquired Nolasco from the Cubs at the 2005 Winter Meetings for Juan Pierre. Since, he's set a number of Marlins records, including wins (80) and strikeouts (987).
Before the 2011 season, Nolasco signed a three-year, $26.5 million deal, including $11.5 million for this year.
If his time in Miami is coming down to a final few starts, he knows that is the nature of the business.
"I'm a firm believer that everything happens for a reason," Nolasco said. "Don't try to control what you can't control. I'm going about my business every day. If it happens, when it happens, it happens. I'll adapt to wherever I go, or wherever it is. If it does happen, wherever I go, it will sink in after I get settled in over there. I can't be thinking about stuff like that until it actually happens."
With the Marlins in San Francisco, Nolasco was asked directly about the possibility of pitching for the Giants.
"I think it would help anybody to be able to pitch in a place like this. When the crowd is behind you, it's huge," Nolasco said. "I think anybody would like that. I don't think anybody would be disappointed to come to San Francisco."
As for AT&T Park, the right-hander added: "I like everything about this place. The mound is nice. It's a good place to pitch. The crowd is great. Great team. What's there not to like?"
Joe Frisaro is a reporter for MLB.com. He writes a blog, called The Fish Pond. Follow him on Twitter Share This