Sandoval to start rehab stint a day earlier
Sandoval to start rehab stint a day earlier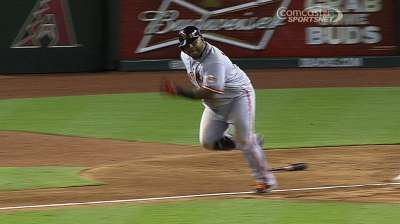 SAN FRANCISCO -- Third baseman Pablo Sandoval's sharp performance during a Thursday afternoon workout at AT&T Park prompted the Giants to accelerate the start of his Minor League injury rehabilitation assignment by a day.
Sandoval initially was expected to begin his rehab stint Saturday. But after watching Sandoval hit and field on his sufficiently recovered left foot, Giants manager Bruce Bochy said that the two-time All-Star will report to Stockton to join Class A San Jose and fill the designated hitter's role Friday, then will play third base Saturday. Bochy indicated that Sandoval's duties Sunday will be flexible. He might play another game for San Jose, or he could rejoin the Giants for another extensive workout.
Either way, Sandoval likely will be reinstated from the 15-day disabled list Monday, when the Giants begin a three-game series against the Dodgers in Los Angeles.
Bochy responded affirmatively when asked whether Sandoval has lost weight, as he was asked to do when he was sidelined.
"I don't have a number [of pounds] for you, but he has worked hard on it," Bochy said.
Chris Haft is a reporter for MLB.com. Andrew Owens is an associate reporter for MLB.com. Follow him on Twitter @OwensAndrew. This story was not subject to the approval of Major League Baseball or its clubs.