Giants' first-rounder Arroyo pays visit
Giants' first-rounder Arroyo pays visit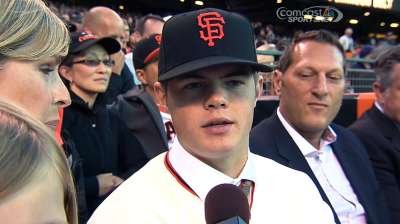 SAN FRANCISCO -- Giants first-round Draft pick Christian Arroyo took in his first game at AT&T Park on Thursday after signing with the organization.
Arroyo, the 25th overall pick, said he grew up a Rays fan, but that Buster Posey was one of his favorite athletes. He said he was excited to meet the Giants catcher before Thursday's game started.
Some scouts have questioned Arroyo's ability to remain at shortstop long-term, but the Spring Hill, Fla., native took extra measures during his senior season of high school ball to improve his chances.
"Going into the season, people were telling me I wasn't fast enough to play short or had enough pop to play third," Arroyo said. "The bottom line was I wanted to get to work."
That work included strength and agility training, yoga and deep tissue massages, and Arroyo said it paid off. When he reports to the Giants' rookie ball team in Arizona on Friday, it will be as a shortstop. As far as remaining at the position, Arroyo said he views Giants shortstop Brandon Crawford as motivation.
"It's nice to see a guy that big playing short," he said. "He's a big dude and he's very good, so hopefully one day I can get there and play the same position and stay there."
Arroyo, listed at 6-foot-1 and 180 pounds, equated the moment when the Giants selected him in the First-Year Player Draft with winning a gold medal on Team USA at the 18-and-under world championships last fall.
"I was watching [the Draft] in anticipation," he said. "I was anxious to hear my name, but once it happened. I broke down. I actually cried. I was very happy."
Chris Haft is a reporter for MLB.com. Andrew Owens is an associate reporter for MLB.com. Follow him on Twitter @OwensAndrew. This story was not subject to the approval of Major League Baseball or its clubs.